The third session of the Journeys in Medicine series entitled Journeys at the Crossroads: A Conversation about Community by Community brought together members of the Baltimore and Hopkins community and discussed some of the challenges the Baltimore City community face that played an underlying role in the riots in Baltimore back in April.
On Tuesday, June 23, panelists Leon Purnell, executive director of the Men and Families Center, Denise Jones, research program coordinator in the Division of Infectious Diseases, Rev. Charles Goods, pastor of the Christian Temple Baptist Church and Rev. Calvin Keene, pastor of Memorial Baptist Church spoke about these community challenges well as what we can do to help our community bounce back from the unrest.
A common theme among the comments of both panelists and audience members was the need for a united community. We began to see the beginnings of the positive effect even small groups could have as the riots wound down and congregations and other community groups took to the streets to try to calm rioters and pick up trash in their wake.
A next step discussed during the session was to increase efforts to care for Baltimore's youth, empowering this younger generation to brighten Baltimore's future. There is a great need for both community and recreational facilities to provide a positive atmosphere in which to grow. Both panelists and audience members alike saw this as a great opportunity for Hopkins to get involved and really make an impact in the surrounding community.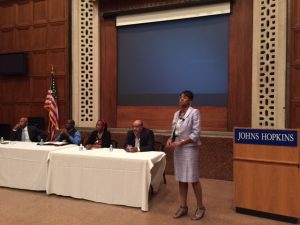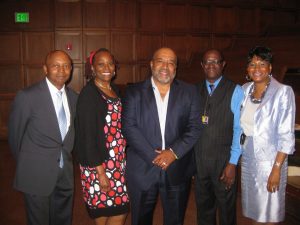 The Journeys in Medicine discussions continue to act as a forum for members of the department and community to discuss and brainstorm ideas for a brighter Baltimore. Please join us for our next session on Wednesday, July 15 from noon to 1:30 p.m. in Hurd Hall where moderator Lisa Cooper, director of the Johns Hopkins Center to Eliminate Cardiovascular Health Disparities, joins the following panelists to discuss the healthcare system and the community.
Panelists:
Dr. Kimberly Anne Gudzune, Welch Center for Prevention, Epidemiology, & Clinical Research
Dr. Michael B. Albert, office medical director, Internal Medicine, Johns Hopkins East Baltimore Medical Center
Ms. Michelle Simmons, patient representative, Johns Hopkins Hospital
Rev. Debra Hickman, co-founder & president, Sisters Together and Reaching (STAR), Inc.
Mr. Brian Taltoan, administration, Baltimore City Public  Schools
To RSVP, please click here: https://jhmi.qualtrics.com/SE/?SID=SV_9MOiMHJskBSiRdH