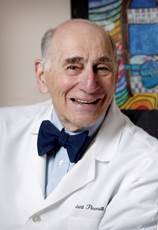 The inaugural Solbert Permutt Memorial Lecture will be given on Tuesday, September 8 at 4 p.m. in Phipps 340. The visiting lecturer will be James C. Hogg, MD, PhD, professor emeritus at the University of British Columbia. Dr. Hogg's lecture will be entitled, "Linking Changes in Lung Structure to Gene Expression Profiles in COPD." A reception will follow in the Houck Lobby of the Phipps Building.
Solbert Permutt was one of the great pulmonary physiologists and an inspiring mentor to many scientists in respiratory and circulatory medicine. He was the division director for Division of Pulmonary and Critical Care Medicine at Johns Hopkins Hospital in the 1970s. Dr. Permutt passed away in May of 2012.
Please RSVP by Sept. 1 by calling 410-550-9892 or emailing scohen58@jhmi.edu.