Dear Medical Nursing Family,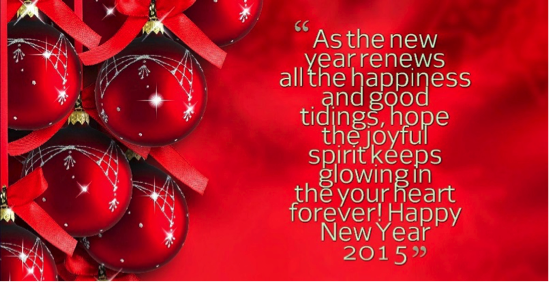 Thank you for creating a positive healing experience for our patients. We hope you have a peaceful holiday season and that the new year brings you much joy.
Best Wishes & Happy Holidays,
-Ron and Terry
View a special 2015 elf message from Ron, Terry, Donna and Katie here:  http://www.elfyourself.com/?mId=66745957.3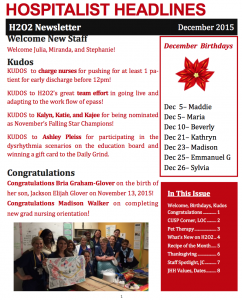 Spotlight on Best Practice: H2O2 Hospitalist Unit "Hospitalist Headlines"
In the Department of Medicine we have all said, at some point or another, "I didn't know that." This is because in such a large, functional unit effective communication amongst staff can be challenging. H202 has done well in tackling this challenge with "Hospitalist Headlines" a monthly newsletter put out each month by Holley Farley, NCIII. Included in the update are welcomes to new staff, staff recognition, CUSP information and updates. There is also a monthly recipe from one of the staff included and a suggestion on where to go on your next trip. The mix of fun topics along with need to know work information makes this an interesting read. Click the link below to see the full newsletter.
2015 December Hospitalist Headlines
Thank you to everyone who attended and helped make the holiday party a success! Below is a sampling of photos from the evening:
A huge thank you goes out to the following nurses and staff who received compliments this month:
Ashley and Stella, nurses in Halsted 2-Osler 2
Nikki W and Joanna, nurses in Nelson 6
Julian, nurse in Zayed 10 West-CVPCU: "...he was kind, patient, but above all I appreciated how he introduced himself, further explained my dad's surgery to my mom and me and explained what to expect..."