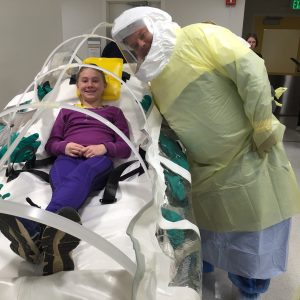 It has been a busy month on the BCU! On April 5, the BCU hosted a tabletop discussion with other stakeholders in HHS Region 3, including representatives from Delaware, Maryland, Virginia, West Virginia, Pennsylvania, DC and the Federal Government. The tabletop addressed activation of the regional response plan and the potential transport of Ebola virus disease patients from across the region to The Johns Hopkins Hospital. On April 13, the BCU conducted a quarterly drill with the help of CEPAR, where we practiced activation of the unit to care for two patients, a pregnant woman and a 10-year- old child.
When the BCU is not active for patient care it serves as a space for research and training. This month, Environmental Services continued to conduct education and training for staff responsible for cleaning patient rooms after discharge. The BCU also hosted a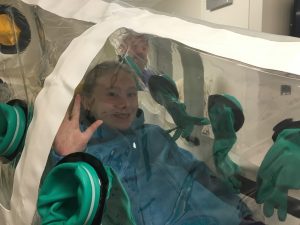 training day where new ICU nurses practiced important bedside skills as part of a new orientation program conducted by Central Nursing Education.
Our next "Breakfast on the BCU" will be May 9 at 7:30 a.m. Trish Perl, professor in the Division of Infectious Diseases, will share with us the latest information on emerging respiratory viruses.
-Brian Garibaldi, Associate Medical Director of the BCU
-Mallory Reimers, Nurse Educator for the BCU