In support of Johns Hopkins' education mission, the DOM typically hosts an administrative resident from the Bloomberg School of Public Health for one year during his/her second year of the Health Administration Program. The resident year is marked with many learning opportunities and project management. The goal is to provide exposure to as much of the DOM as possible, yet provide meaningful experience that will contribute to their launch into a health administration career.
This year, we are pleased to welcome Jordan Hughes and Slesha Patel.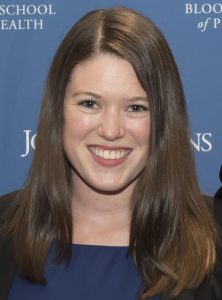 Originally from Naperville, IL, Jordan graduated from the University of North Carolina at Chapel Hill earning a bachelor's in public health.
She first developed an interest in public health as a research assistant at Lurie Children's Hospital of Chicago examining the effects of parenting behaviors on infant growth and how this could shape parent education. Her passion for health administration was solidified interning for the COO of Emory University Orthopedics and Spine Hospital. Jordan's work included leading a process improvement project in Pre-Admissions Testing and implementing recycling initiatives in the OR and patient floors. Additionally, Jordan was able to develop valuable leadership skills at UNC as vice president of membership development of her sorority, an ambassador on the Health Policy and Management Student Board and as a volunteer at UNC Hospitals.
Between studying health policy and management as an undergraduate and her experiences in healthcare, Jordan believes the Hopkins MHA degree is a natural progression to further the knowledge and skills necessary to be a successful healthcare administrator. She hopes her time at JHU will shape her into an inspiring leader focused on promoting coordinated, cost effective, patient-centered care in health systems.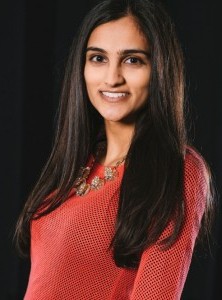 A native of Overland Park, KS, Slesha began the six-year BA/MD program at the University of Missouri- Kansas City, School of Medicine. However, after taking the course "Hospital Team Experience," she realized she was fascinated with aspects of healthcare outside of direct patient care. An administrative internship at Providence Medical Center in her hometown cemented her decision to leave medical school for a newfound passion in healthcare administration. Slesha hopes that her strong clinical background will allow her to be an effective administrator.
While working on her bachelor's in biology and minors in chemistry and Spanish, Slesha occupied herself with several leadership opportunities as president of two of the largest campus organizations, vice president of her sorority, and the captain of her dance team. After graduation, Slesha aspired to pursue her MHA degree at a top-ranking program where students had proven success, which ultimately led her to Johns Hopkins Bloomberg School of Public Health.