Epic kudos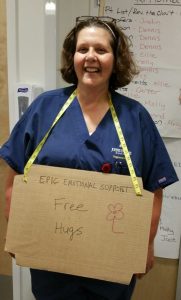 We had a successful transition to Epic on July 1 led by Donna Beitler, Keisha Perrin, Dr. Tim Niessen and Hailey James. Our certified trainers were Regina Hendrix, Denise "Deni" Gartrell, Jennifer Bardell, Kathryn Medved, Kesiha Perrin, and Donna Beitler. In addition to our certified trainers, educators Kelly Connor, Marida Twilley and Paula Murray, were instrumental in providing oversight across the department to numerous Epic classes for our staff and staff from across the hospital. Joy Rothwell coordinated the staffing and agency model for all DOM units and provided operational advice on payroll. The many Epic super-users, some of them our nurse managers, were present to provide much needed support on the units with staff as they applied their in-class training. Staff appreciated the "Epic goodie bags" supplied by the DOM and the many meals and snacks during order cut-over and implementation. The spirit of cooperation during this transition was felt by all and is greatly appreciated.
Success Factors
During the next several months, all JHH staff will need to perform their yearly self-evaluation in Success Factors and set their Fiscal Year 17 goals after they speak with their manager. We will be sharing departmental goals with staff soon as they are just now being finalized. Evaluators will need to perform their 1:1 evaluation with staff well before the deadline of October 1.
Meyer Move
The move of Halsted 4 to Meyer 9 and the move of the Hospitalist unit to Meyer 8 will be in late November. 
Dialysis Move Back to CMSC 2
Dialysis is slated to move back to CMSC 2 from CMSC 7 on or about August 7, after having a new water room and cosmetic renovations to the unit. A new outpatient pediatrics peritoneal dialysis unit will open in August adjacent to the adult unit.   Fresenius Kidney Care is the contracted company that provides dialysis services as of July 1. Medical oversight is led by Dr. Michael Choi, and nursing oversight is led by Terry Nelson. The Director of Operations, Inpatient Services is Cassandra (Anne) Britt.  
Goodbye to Stacey Rotman
Medical Nursing and Nelson 8 said goodbye and best wishes to Stacey Rotman, nurse manager of Nelson 8. Stacey left Hopkins after 16 years for Greater Baltimore Medical Center where she will work in nursing and human resources. Terry Washington will act as nurse manager in Stacey's absence.