This is the first in a series on data integrity and analytics that will provide some practical answers, pointers to valuable resources (some new or under-utilized) and what we hope will be a sustained forum for sharing and updating solutions that our faculty and staff have found useful.
Where should I put my data?
This question has always been a challenge, but it has come into sharper focus with the succession of data breaches and malware events from universities and health care more generally to businesses across the globe. In addition to privacy concerns, improperly stored data can be lost to software or hardware failure. There is no perfect solution, but there are excellent resources available that we can use while attending to best practices, policies and applicable law. We are custodians of the data we collect on behalf of JHU.
It is clear that removable storage, such as a USB flash memory drive or a laptop, is not sufficiently reliable and secure for data storage. Primary data should be moved as quickly as possible to secure storage, meaning that it is unlikely to be lost or compromised.
Of course, solutions will vary by data type (needs are different for a gel image or spreadsheet versus deep sequencing or confocal microscopy images), but network-attached storage (NAS) is widely available and can be set up for shared access by users collaborating for research and clinical activities.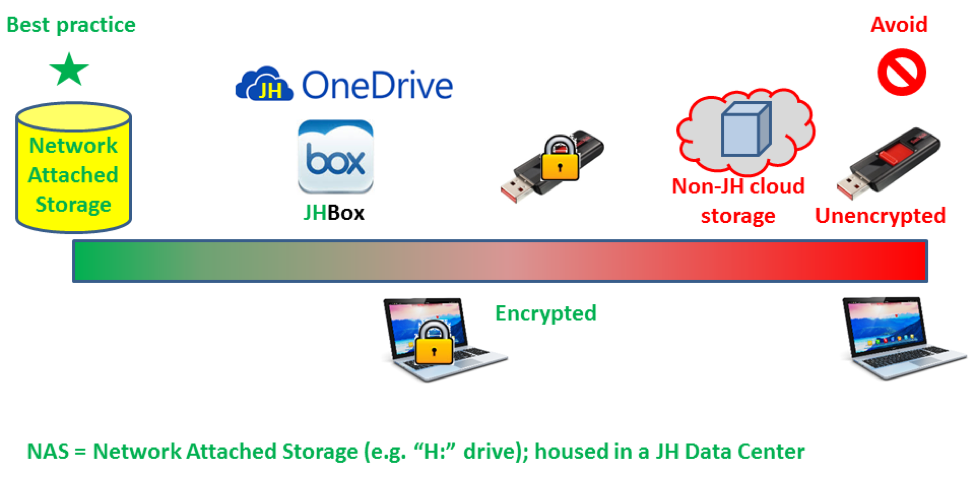 Your IT support team can help you set up a shared access NAS drive for your team's needs, which can be accessed from off-campus when running VPN (e.g. JHSecure).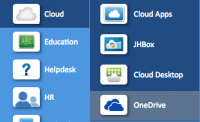 For some needs, other suitable options may include the OneDrive and JHBox storage options available from the "cloud" menu on the  myJHU portal (do not confuse these with separate non-JHU offerings from the same companies).
All portable storage (including laptops, removable hard drives and USB flash memory devices) must be encrypted. Your IT support team can assist with this. Unencrypted storage should be avoided.
-Stuart Ray, Vice Chair for Data Integrity & Analytics