Congratulations to Nowella Durkin, Tamala Knox and Gabriela Smit who were selected to receive this quarter's Staff Recognition Awards based on their glowing nominations.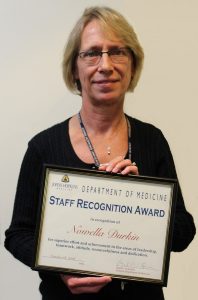 Nowella (Nola), a senior programmer/analyst in the Division of General Internal Medicine, has worked at Hopkins for the past 36 years. She now works in the GIM-Welch Center Methods Core working on multiple projects simultaneously to provide data management and analysis support to both faculty members and medical residents. She has become a valued resource throughout the center and can often anticipate problems and offer important insights to investigators. "In the POWER trial, I viewed her contributions as so important that I made her a co-author on the paper, which was subsequently published as the lead article in the New England Journal of Medicine, " said Larry Appel, professor and director of the Welch Center. "This is the first and only instance in which I offered authorship to a data manager."
Nola has also led the database and data management core of the J-CHiP (Johns Hopkins Community Health Partnership) Internal Evaluation Team where her expertise has enabled successful translation of program and health plan data to evaluation and research databases for conduct of rigorous analyses. No matter the project, Nola has demonstrated a commitment to collaboration and professionalism and proven to be an essential contributor in both research and operations.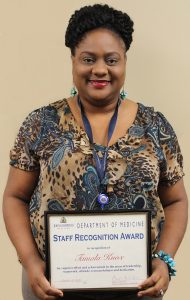 Tamala, senior administrative assistant to the vice chair leadership team, is much newer to our institution, but has made her mark in this inaugural position in just 16 months through her work with the Department of Medicine Journeys in Medicine Summer Series last year as well as her development of procedures and databases to best help our departmental vice chairs in crucial areas such as faculty reviews and grant awards. She has not only expanded on her job description by accepting new responsibilities and anticipating the needs of those she supports, but she has proven her commitment to her role by moving her days off and spending extra hours in the office in order to keep things running smoothly. "Recently one of the vice chairs was overcharged for three extra nights for a business trip and despite calling the hotel chain's customer service line, could not get the refund completed in a timely manner. Mrs. Knox heard about the lack of responsiveness and offered to call herself--within the 24 hours the refund had been posted," said Sherita Golden, executive vice chair. "She is truly our advocate!"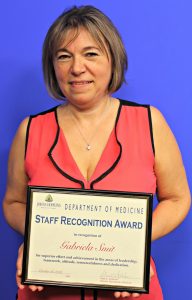 Gabriela, senior research service analyst for the Johns Hopkins Center for Clinical Global Health Education (CCGHE), is responsible for grant and contract budgets, administering 26 multi-year awards in excess of $29 million, involving administrative and regulatory processes at Hopkins as well as with entities in Africa and India. In her eight years with the CCGHE, she has shown impressive initiative, leadership and diplomacy while building financial systems and teams both here at Hopkins and at the center's research enterprise in Pune, India. "Gabriela is a leader who is constantly striving to improve processes," said Bob Bollinger, professor and founding director of the CCGHE. "In an effort to improve administrative management with our partners in Uganda, she developed research administrative training that included expertise from within JHU and involved both in-country and JHU on-site training for Uganda colleagues. The program helped build in-country capacity for grant management and was a huge success. She identified a real need, devised a way to meet it and established a coordinated grants management process that serves the partnership more efficiently."
Other notable nominees include:
Georgia Jones, senior patient access specialist at Keswick
Donna Knight, patient service coordinator for Greenspring Station Cardiology
Heather Modispaw, research service analyst in the Division of Geriatrics
Samantha Ottone, administrative supervisor in the Division of Endocrinology
Melissa Pianowski, patient access specialist at Keswick