William McEvoy, assistant professor in Cardiology, and Olurotimi Mesubi, Cardiology fellow, recently received awards for their research at the 2016 Northwestern Cardiovascular Young Investigators' Forum from the Academic Research Coalition. Other finalists include: Emmanouil Tampakis, Mohammadali Habibi and Deeptankar DeMazumder.

Bill's research relates to work demonstrating that excessively low diastolic blood pressure is associated with heart muscle damage as measured by high-sensitivity troponin in the blood stream. This suggests that caution may be needed for some patients when treating hypertension to more intensive goals, especially if these patients have a large pulse pressure and are known to have coronary artery disease of left ventricular hypertrophy.
For more information, visit: http://www.hopkinsmedicine.org/news/media/releases/doctors_beware_of_low_diastolic_blood_pressure_when_treating_hypertension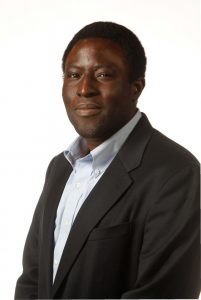 As a post-doctoral cardiology fellow in Dr. Anderson's lab, Rotimi's research focuses on the cellular signaling and mechanisms that cause atrial fibrillation (AF) in diabetes, both of which are major public health problems. His current work inovoles studying the role of the multifunctional calcium-calmodulin dependent kinase II (CaMKII) as a sensor of elevated reactive oxygen species and hyperglycemia, both of which are present in diabetes, contributing to a proarrhythmic state in the upper chambers of the heart (atria). So far they have established that CaMKII oxidation and O-glycosylation is critical for AF in diabetic mice and we see evidence that these processes are present in atrial tissue from humans with diabetes. His hope is that this and future studies will lead to better mechanistic insight that results in CaMKII targeted therapies to manage atrial fibrillation and other arrhythmias.