The BCU team hosted the National Ebola Training and Education Center (NETEC) for their second annual Hopkins site visit on May 17-18. NETEC faculty were on hand from the University of Nebraska Medical Center, Emory University and Bellevue Hospital to meet with the BCU team and to share best practices in high containment care. The NETEC site visitors were highly impressed with the level of preparedness at JHH. Here are some of the strengths they noted during the visit:
Quality of our team members and our interdisciplinary approach to training and care
Our physical infrastructure – they recognized that our unit combines the 'best of the best' from all the regional centers
Hospital and Health System Leadership Buy-in
Our growing research program on the "Science of Containment Care"
Our use of the BCU for activities that enhance the overall hospital and health system mission
Collaboration with the Maryland Department of Health and Mental Hygiene
Collaboration with Hospital Epidemiology and Infection Control
Integration with Emergency Management
Use of eMOCHA (our new online system) to monitor staff who provide care on the unit
Our waste handling plan
Our laboratory system
LIFELINE Special Operations Response team (SORT) for transportation
Thank you to all those who contributed to the NETEC site visit and to everyone who has contributed to the BCU overall the past two years!
In addition to the NETEC visit, the BCU team participated in two other important events in May.
Several members of the BCU joined a high-performance team (HPT) with the United States Air Force Surgeon General's Office. Brian, Mallory Reimers and Greg Bova, the lead design engineer of the BCU, spent three days working with the HPT on the initial planning process. The HPT is exploring the possibility of an expeditionary biocontainment unit that could be deployed during future outbreaks.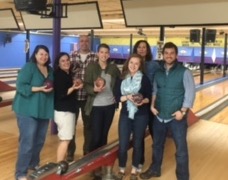 Equally exciting, the BCU hosted its first-ever duckpin bowling night at Stoneleigh Lanes on May 6!
If you are interested in learning more about the unit or think you might want to join our team, please contact Brian Garibaldi at bgariba1@jhmi.edu
-Brian Garibaldi, Medical Director of the BCU