Over the next few days, our Epic environment will be upgraded to the most current version of the Epic software. This newest version of the product reflects many of the enhancements we have recently requested, and we are grateful for the contributions of our physicians, nurses and all healthcare professionals in defining these emerging requirements. It will be a very busy weekend, (and weeks ahead) and we look forward to working with all of you, and your staff,  to ensure the product is positioned to meet your needs.
The Epic conversion will occur early on Sunday morning, and is expected to take approximately 3 hours, but the preparation has taken many months.  And the weeks ahead will require vigilance and patience.
Epic users will be using downtime procedures from approximately 2 a.m. on Sunday morning, until approximately 5 a.m. on Sunday morning.
Hospital Contact Information: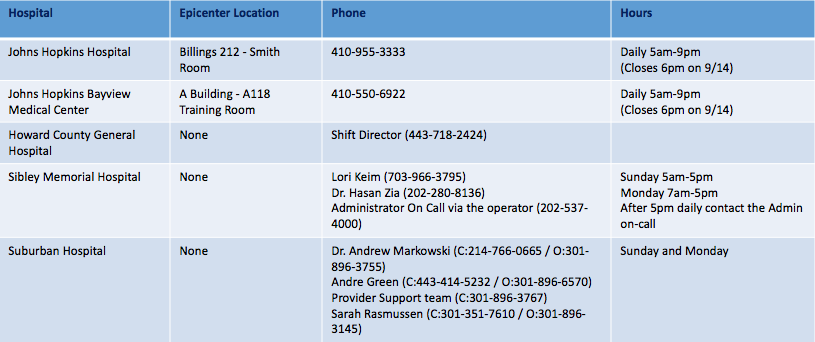 Ambulatory users:
There are several helpful upgrades including the option to "pre-chart," send prescriptions to multiple pharmacies, "REVIEW" all from snapshot view, etc.
Most of the new features will be accessed from WIDESCREEN VIEW, so you are strongly encouraged to convert to this view now.
Tip sheets to convert to WIDESCREEN and to access the Playground (PLY) in Epic can be accessed here:
https://jh.box.com/s/mc6yoaue2mybhybvae7u95ajmwi1ha41
Training options, including a recorded webinar by Danny Lee at JHCP on the new ambulatory updates are listed below. We encourage you to explore them and use the one that fits your learning needs best!
Inpatient users:
Key upgrades include:
Changes to the patient list display
Improvements to eprescribe
New physician checklist to ensure key tasks are done
Epic Upgrade Links:
JHCP Epic 2017 recording: https://connect.johnshopkins.edu/p1xh6jxp9ad/
Epic 2017 Upgrade Ambulatory Train the Trainer (Recording) – 56 minutes
https://connect.johnshopkins.edu/p5uwsnc9gz5/
Epic Ambulatory Upgrade Slides (also attached)
http://intranet.insidehopkinsmedicine.org/epic/_docs_all/Ambulatory%20Upgrade%20Slides%20Final.pdf
Epic Upgrade Page (for Intranet link)
http://intranet.insidehopkinsmedicine.org/epic/epicupgrade.html