As members of the Hopkins community, we are surrounded by symbols both tangible and intangible. As a longstanding institution and the cradle of graduate medical education, many of these symbols represent traditions laid down before our time. Deservedly, Johns Hopkins has transformed into a symbol of diversity, Mary Elizabeth Garrett of inclusion and William Osler of our highest aspirations for the academic missions. The dome represents the ideals and values of Johns Hopkins Medicine. So far, the symbols I have mentioned should not spark a source of controversy. There is, however, one symbol among our traditions that may: the short white coat worn by Osler interns.
There are those who have expressed loss over this time-honored tradition, differentiating our learners from those who have spent at least a year at the bedside growing into physicians—growing into brothers and sisters with their fellow interns, and there are those, often medical students and would-be interns, who see the short white coats as a rigid and outdated symbol of hierarchy. While I do not intend to argue either position in this post, I do hope to provide a framework for the ongoing discussion that has developed around this issue and perhaps shed light on an alternate perspective.
For those of you who feel a sense of loss over the demise of the short white coat, I ask you to consider the following from our Executive Vice Chair Sherita Golden: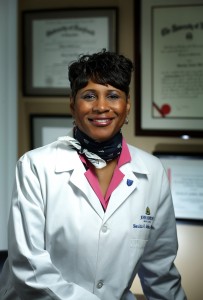 "It was early evening in the fall of 1994 as I began my long call on the Janeway Firm. The next patient I had to admit was on Halsted 5. I had already met her daughter who was waiting in her room for her mother, my patient, to return from CVDL. I recall that evening like it was yesterday. I was adorned in a clean, short white coat over a green blouse and navy blue slacks. My stethoscope was in one pocket and my Washington Manual in the other. After being informed that my patient had returned from CVDL, I went to her room right across from the Halsted 5 nursing station. Before I could open my mouth to introduce myself as Dr. Hill, she said, 'Oh, thank goodness you are here. Are you the TV lady? I have been waiting for someone to come up here to collect the money so I can get my TV turned on!' While I was frozen in place trying to process what I had just heard, her daughter, exasperated and embarrassed, exclaimed, 'Heavens Mother! That is your doctor!'
That would unfortunately not be the last time during my intern year that I would be mistaken for the TV lady, dietary or other non-physician support staff because I was wearing a short white coat. Each time it occurred, I felt degraded and demoralized. I never shared these feelings with anyone because it seemed too sensitive and painful to articulate. As an African-American woman, wearing a short white coat did not mean I would be confused with a medical student—that would have been a compliment. It meant that I would be confused with our non-medical support staff. My turmoil was further heightened by the high regard and respect I had for the important role of our support staff in caring for our patients. In fact, when my grandmother left Louisa County, Virginia at 13-years-old and came to Maryland/Washington, D.C. because there were not advancement opportunities for African Americans in the south, she initially made a living cleaning houses and cooking for whites. I was afraid that disclosing my frustration and pain at being assumed to be support staff would alienate me from the individuals who were part of my strongest support system on the wards during my internship.
Yes, the short white coat was our longstanding Osler tradition. While for most it represented our role as ongoing learners still in apprenticeship, for me it represented a source of painful misclassification. It was not my short white coat that made me know that I was in apprenticeship—it was the phenomenal medical knowledge and amazing clinical skills of my SARs, ACSs and Janeway Firm faculty. Watching them seamlessly generate a differential diagnosis and identify rare diseases made me quickly realize that my internship year would be a steep learning curve. While symbolism and tradition are very important, we need to be reflective in considering that they may provoke different perspectives and responses that are the product of our society's views on race, gender and hierarchy. I applaud the current Osler Residency Program leadership team with having the courage to form new traditions."
-Sherita Hill Golden