It's hard to believe October and the fall holiday season will soon be upon us. The changing of the leaves and the cool weather are a welcome relief from the mid-Atlantic heat and humidity. There are a few items which I would like to update you on.
Safety Culture Assessment (SCA) begins Monday October 1 and be available through October 31. Eligible respondents will receive an email with the subject line of JHMI Safety Culture Assessment from Pascal Metrics. Staff should be on the lookout for this email and participate in this survey that examines the culture of safety of the frontline staff at the unit/work setting level. If there are any questions, please contact Katie Outten, patient safety officer and survey coordinator. Click here for more information.
TeleSitter restarted on Saturday, September 27. Due to technical problems we had to suspend the service, but we have been assured that the issues have been resolved.
Thank you for your support!
-Ron
Nurse of the Month
Every month all 900 residents at Hopkins submit nominations for the co-nurse of the month award. It's our way of beginning to formally say thank you for everything that nursing does for the housestaff and patients. This month, Holly Bracher (MPCU) and Stephanie Bleach (Peds Clinic) won. Congrats!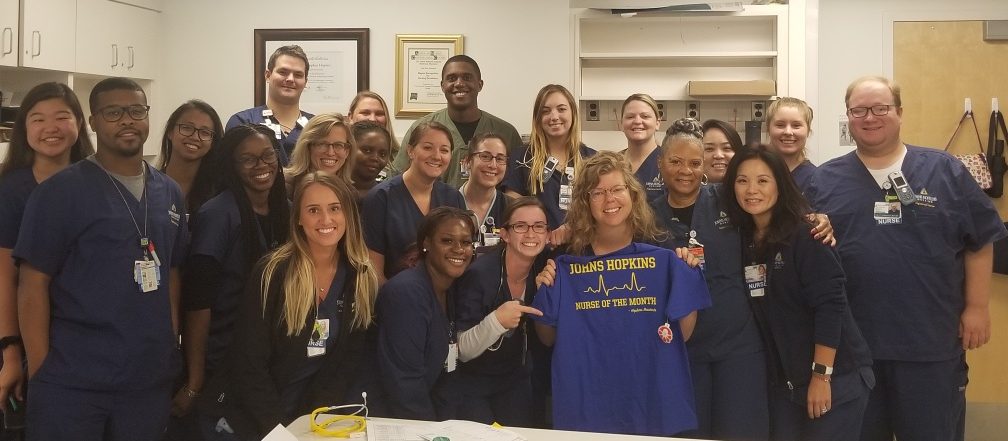 Back to School Drive
The Back to School Drive was another success! Thanks to Mary Glover, MSN, RN, CCRN, for organizing. We exceeded our goal by providing 39 stuffed book bags and two large bins of overflow supplies to the children at Harford Heights and Commodore Rogers Elementary Schools. We also collected 15 stuffed backpacks and a bin full of supplies for grades K-8 at Henderson Hopkins.
Employee Service Awards
Earlier this month, we celebrated 27 employees for their years of service during our Employee Service Awards held in Turner Auditorium. Those employees are as follows. Additionally, Claire Petchler, RN from the MICU was named the recipient of the Edward A. Halle Prize for Excellence in Patient Service in recognition of her extraordinary compassion and outstanding patient service. She was selected based on complimentary letters sent by patients throughout the year.
Unit
Years of Service
Name
CCU
10 yrs

Rama Anthony, RN
Jessica Dukehart, RN
Esoida Barber, Clin. Tech
Jennifer Linehan, RN (FP)
Rebecca Williamson, RN
Endoscopy
10 yrs.

20 yrs

Sholanda Grant, Clin. Tech
Caroline Siruju, Clin. Tech
Tarsha Trent, Clin. Tech
MICU
10 yrs

20 yrs

Mary Glover, RN
Deirdre Wiederrecht, RN
Maura Costello, RN
Medical Nsg. Admin
10 yrs
20 yrs30 yrs
Sheila Miranda, RN
Mary "Katie" Outten, RN
Amy Cox, RN
Ronald Langlotz, RN
Donna Beitler, RN
Medicine Admin
30 yrs
Diane Moses, Sr. Addictions Spec.
Nelson 3
10 yrs.
Helena Johnson, Proj. Coordinator
Arika Smith, RN
Essi Abassa, RN
Nelson 4
10 yrs

20 yrs

Kelly Gholson, Unit Associate
Patricia Peninger, RN
Erica Cunningham, RN
Nelson 7
10 yrs
Heather Carpenter, RN
Kristine Lee, RN
Marian Asiedu, RN
Nelson 8
10 yrs
Rebecca Longstreth, RN
Osler 5
10 yrs
Minisha Dwitt, CCSR
Laura Reed-Kearney, Unit Associate
Hemalatha Velpula, RN
Meyer 8
10 yrs
Cynthia Ryan, RN
A huge thank you goes out to the following people who received compliments this month:
All staff in the MICU: "Please share with staff of the MICU, the helicopter crew, and all that tended to my wife, mine and my family's sincere appreciation for the professional yet compassionate manner they conducted themselves."
Maxine Luke, nurse on Meyer 8
Tyler McAuliffe, nurse on Zayed 2-Endoscopy: "Her overall approach to patient care is excellent and I'd like to commend her. " 
Rebecca Williamson nurse in the CCU and Allie Beaudet nurse in the PCCU