CCU Celebrates One Year CLABSI Free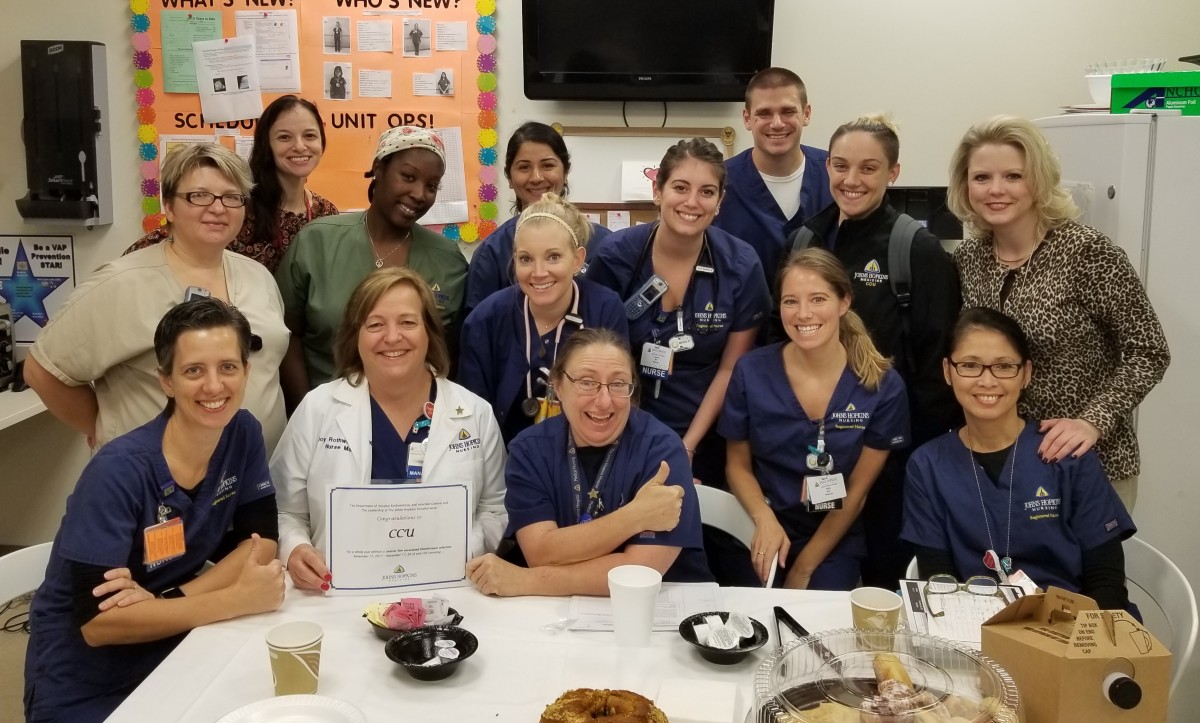 We applaud the CCU for having no CLABSIs for one year! Their celebration was in mid-November after a rigorous year of performance improvement, collaboration with other units and departments, and competency validations. We are happy to see this success.
2018 Nursing Annual Reviews
For four days in October almost all of Medical Nursing comes together to renew their required educational competencies and learn about new initiatives, policies and equipment. The 2018 Annual Reviews taught well over 400 Nurses during that timeframe. This is a huge endeavor spear-headed by Nurse Educator Marida Twilley and her colleagues Regina Hendrix, Jennifer Bardell, Paula Murray and Sheila Miranda.
With help from specialists in various fields, many topics were covered including sepsis, restraints, mock codes and nurse-managed heparin. Nurses enjoyed a "CSI" station and documented on paper forms in the event that Epic crashes. The evaluations were overwhelmingly positive, and feedback was elicited as to what topics to include for 2019. A big thank you to all who helped make this day such a success, and a huge shout out to Sharon Lewis, staff assistant, who spends endless hours securing rooms, entering data and registering and directing participants. Here's to another successful year and we will see you all in 2019!
A huge thank you goes out to the following people who received compliments this month:
Katie Miller, nurse on Bloomberg 5 South
Ruth Barsuhn, nurse on Nelson 5 (MPCU)
All nursing staff on Nelson 8
Scott Cole, Katie Reed, Grace Nayden and Whitney Miller, nurses in the MICU and CCU: "They were all caring and wonderful in the face of a very difficult situation."
Jessica Whitley, RN, Chirs Berrain, CT, Kelly Dyson, RN, and Jess Rainey, CT on Meyer 8: "They took care of me like a member of the family."
Denise Stevens, Nicola Wescott and Jeremy Brown, nursing staff on Nelson 4