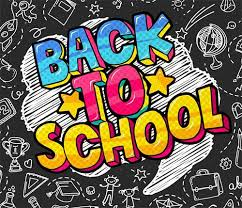 This August, the DOM Nursing Diversity Council successfully collected hundreds of back to school supplies for local school children. For the fourth year in a row, the council's Back to School Supply Drive received donations from multiple DOM units-nearly 200 notebooks, folders and binders were donated. Additionally, packaged items such as pens, crayons and pencils were donated by the dozens as well as 80 packs of scissors, nearly 90 rulers and 35 book bags. The drive was held in collaboration with the United Way of Central Maryland's Back to School Brigade initiative. Thank you to Osler 5, Meyer 8, Meyer 9, MICU, CCU, PCCU, Nelson 3, Nelson 4, Nelson 8, the DOM Educator/Admin group, DOM Administration and Nursing Administration for your efforts.
Inpatient Patient Satisfaction Scores for Fiscal Year 2019
As we ended the fiscal year on June 30, we were pleased to see inpatient satisfaction scores improve 23 points over last fiscal year--the best improvement over any department at JHH! HCAHPS is a post-discharge survey sent to approximately 50 percent of our discharges who go directly home. Patient feedback showed that we improved in every section, but particularly in nursing communication. Compliments go to all staff who helped make this improvement possible!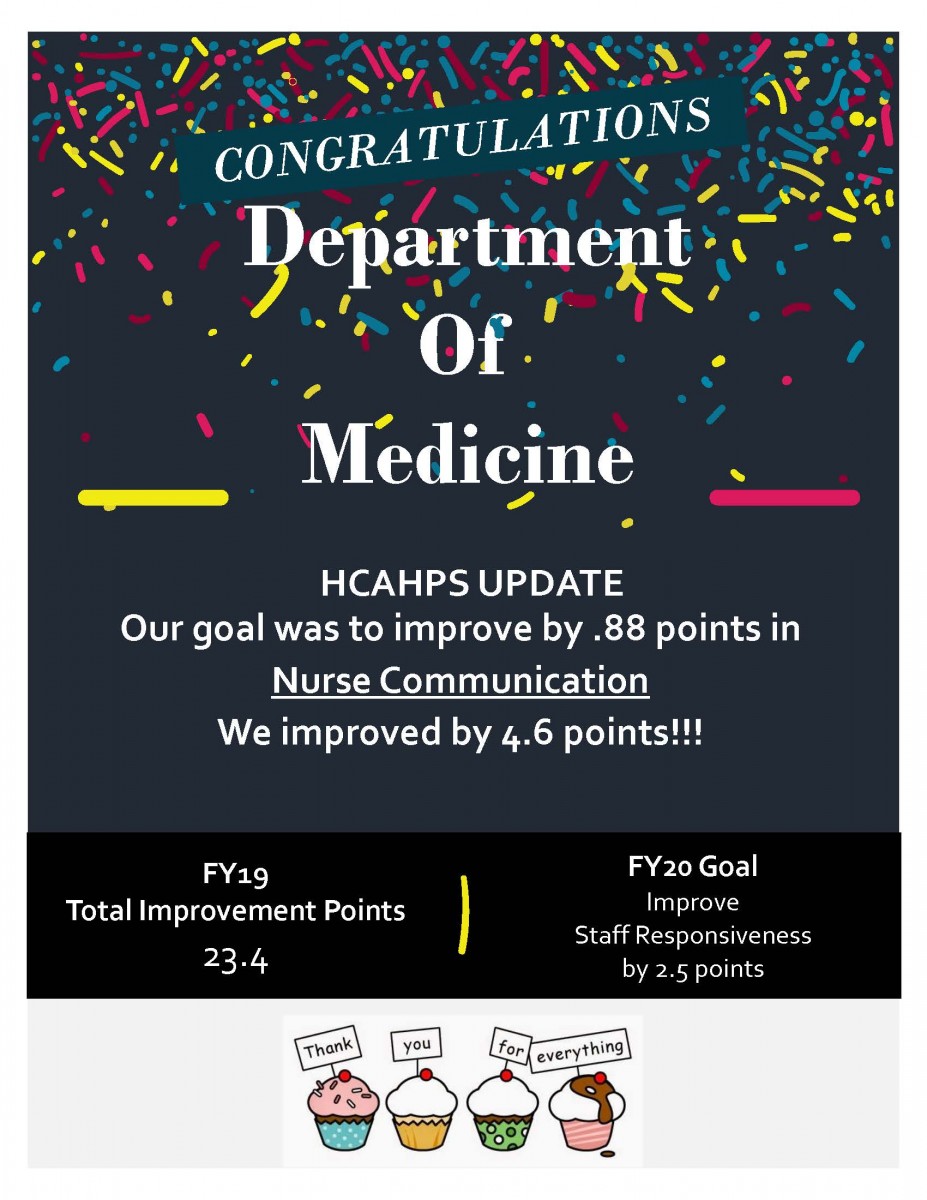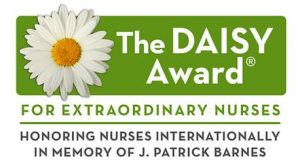 August DAISY Nominees
Congratulations to this month's DAISY nominees:
Ivo Awasum
James Iringa
Jennifer Abebrese
Granting a Last Wish: the MPCU Team and Supportive Care Team
One of our patients recently had a seemingly impossible wish to see his beloved race car one last time before he passed. With three respiratory therapists, two nurses, a clinical technician, two large tanks of oxygen and help and coordination from others, he was able to hear his car roar one last time while surrounded by family.
"This is what working in healthcare is all about, and I couldn't be happier to serve a team that makes wishes come true every day. I also wanted to thank respiratory therapy for coming through in a time crunch to make this happen. Security closed the Wolfe street entrance for us to allow the car and well over 30 family members to be with the patient during this time. Both palliative and the CJ teams accompanied him as well. Everyone had a hand in making this happen, so I bid you one final thank you for all that you do every day!"
-Joe Reinhart MSN, RN, assistant nurse manager, MPCU
Deepest Condolences     

          

Our deepest sympathies go out to Keisha Perrin, nurse manager, Nelson 8, who lost her 19-year old son Keshon Nowlin due to a car accident on August 11. Keshon was a popular honor student at Bowie State University. A celebration of Keshon's life will be held on Tuesday, August 20. Staff from across the hospital are being asked to cover shifts and provide support to Nelson 8 as well as the MPCU, where Keisha previously worked.