This week marked Medical Laboratory Professionals Week, an annual celebration of medical laboratory professionals who play a vital role in health care and patient advocacy. Our researchers and lab techs play a vital role in health care, and we are grateful for all they do to benefit our department and the patients we serve.
During a time when many types of research have been halted due to social distancing guidelines and precautions surrounding COVID-19, we are especially thankful for the investigators who have dared to tackle questions about the virus head on.
In an effort to understand some of the effects COVID-19 has on patients, David Kass, professor in the Division of Cardiology, and Chirag Parikh, professor and director of the Division of Nephrology, along with Priya Duggal from epidemiology, are studying the mechanisms that underlie the high mortality of COVID-19 infection in certain subgroups, with the goal of rapidly developing an intervention to change this outcome. The team aims to inform clinical decision-making by identifying biomarkers and risk factors among these subgroups.
Justin Bailey, associate professor in the Division of Infectious Diseases, Andrea Cox, professor in the Division of Infectious Diseases, Diane Griffin, professor of Neurology and Infectious Diseases, along with Ben Larman, pathology, and Andy Pekosz, molecular microbiology and immunology, are working to define the immune responses and antibodies associated with COVID-19 recovery and severe illness resulting from the disease.
Paul Auwaerter and Mark Sulkowski, both professors in the Division of Infectious Diseases, are helping patients recover by creating the critical infrastructure necessary to implement human vaccine trials in ambulatory and hospital settings through a new COVID-19 Clinical Research Core. They are working to fund up to four projects as part of the COVID-19 Therapeutics Research Group to support innovative pre-clinical research.
Arturo Casadevall, professor in the Division of Infectious Diseases, is leading the team of physicians and scientists who have established a network of hospitals and blood banks that can collect, isolate and process blood plasma from COVID-19 survivors.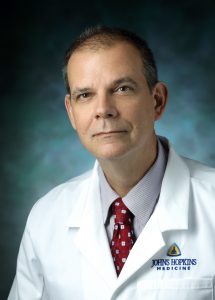 For more, read COVID-19: Researchers Meet 'The Urgency of this Moment' from the JHU Hub.