Now that we have been in crisis management mode for about two months it may seem as though we've hit our stride in managing the pandemic, but for many, this is the time that the endorphins wear off and the stress hits harder.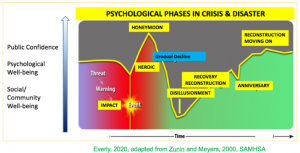 From a psychological standpoint, this has been called the disillusionment stage. George Everly, professor in the Bloomberg School of Public Health and expert on the psychological response to disaster, claims this is the natural next step following the "heroic" stage where people jump to work, and the peak "honeymoon" phase where people understand their new roles and the system has adjusted to handle the disaster. Just as all peaks are followed by valleys, many of us may experience the gradual decline as we reflect on the loss, stress and new challenges this pandemic brings.
As a department, we have taken steps to avoid this. Two months ago, when we began to prepare for the worst, we made substantial efforts to change scheduling to more sustainable formats, avoiding 24-hour shifts. We asked all of our clinicians to step up to share the burden this pandemic has caused. We set up open lines of communication to help solve problems surrounding everything from PPE supplies to childcare for our staff on the front lines. We want to continue to support our faculty, staff and trainees the best we can. Below are some available JHM resources that focus on well-being:
I hope you will use these programs to your advantage as they have already helped many members of the Hopkins family. We also invite you to tell us or your division leadership what we could be doing to help. You are the heart of our department. You are our best and most valuable resource. Please take care of yourselves and look out for one another. Together we are stronger, and together we will prevail.
-Mark