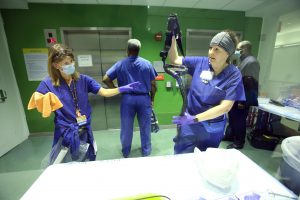 No one is untouched by the COVID-19 pandemic. Although all departments in the School of Medicine and Johns Hopkins Health System have come together in remarkable ways to meet this challenge, no group has given more than the Department of Medicine. COVID-19 is fundamentally a medical illness, and our department is at the forefront in every aspect. Our nurses, residents, fellows, faculty and administrators are all involved and have substantially changed their work flow and, in many cases, their job descriptions to meet the demands of COVID-19. Each of our divisions has contributed in unique ways, addressing the clinical care, research and educational missions that are so critical to this response. With profound gratitude for these efforts, we are dedicating a series of brief reports to inform, thank and celebrate the contributions of these key divisions to our COVID-19 response.
Division of Addiction Medicine:
Faculty and staff have effectively adapted to telemedicine, and weekly outpatient visit numbers now exceed pre-COVID-19 numbers. They have conducted telemedicine visits with both COVID-19 and non-COVID-19 patients.
Members of the Division of Addiction Medicine are making extra efforts to reach out more frequently to patients with substance use disorders who have been cut off from support groups.
Michael Fingerhood and colleagues in the Bloomberg School of Public Health are working on a grant proposal that will examine how state health service delivery policies influenced effects of the COVID-19 crisis on receipt of addiction treatment and rates of drug overdose, as well as characterize state and local policy implementation to identify policy gaps and changes needed to enhance treatment access and prevent overdose during and following disasters.
Megan Buresh, Lee Gilman and Michael Fingerhood have continued to provide virtual buprenorphine treatment to individuals with opioid use disorder seeking care via the Behavioral Health Leadership Institute (BHLI) van outside the jail and at Amazing Grace Church. Additionally, since the pandemic started, the program has used telemedicine to initiate buprenorphine treatment to over 60 individuals seeking help with opioid use disorder.
Division of Infectious Diseases:
For more COVID-19 photos, visit our Facebook page.
For more thank you posts, click here.