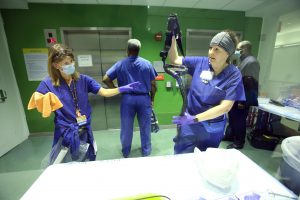 No one is untouched by the COVID-19 pandemic. Although all departments in the School of Medicine and Johns Hopkins Health System have come together in remarkable ways to meet this challenge, no group has given more than the Department of Medicine. COVID-19 is fundamentally a medical illness, and our department is at the forefront in every aspect. Our nurses, residents, fellows, faculty and administrators are all involved and have substantially changed their work flow and, in many cases, their job descriptions to meet the demands of COVID-19. Each of our divisions has contributed in unique ways, addressing the clinical care, research and educational missions that are so critical to this response. With profound gratitude for these efforts, we are dedicating a series of brief reports to inform, thank and celebrate the contributions of these key divisions to our COVID-19 response.
Bayview Internal Medicine Residency Program:
Bayview medicine housestaff have gone above and beyond to provide exceptional care on new COVID services in addition to the traditional services they staff.
Dr. Emily Peng and the Bayview medicine housestaff have created an Inpatient Medicine ThinkTank that meets regularly and updates program leadership on suggestions to improve operations and the residency experience during these challenging times.
Drs. Maddie Rodriguez, Koushik Kasanagottu and other Bayview medicine residents have graciously volunteered to coach re-deployed non-hospitalist faculty, preparing them to feel ready for inpatient clinical work. They created an engaging Zoom interactive session for non-hospitalist faculty deployed at Bayview and created helpful resources.
For much of the pandemic, the Bayview program has held twice weekly evening town hall meetings for all Bayview residents and program leadership to discuss changes and challenges.
Core faculty Colleen Christmas and Jessica Colburn and ACS alumni Mariah Robertson, have hosted twice weekly voluntary support groups for Bayview housestaff throughout the pandemic.
GIMboree, a monthly primary care evening that involves Bayview GIM track residents and Osler Urban Health residents, is still keeping the community strong through the pandemic converting their meetings to Zoom get-togethers
Osler Medical Residency:
Director Sanjay Desai and members of the Osler Medical Residency created a a video detailing what life is like on the front lines caring for patients as well as how the pandemic has impacted their personal and family lives. View it here.
Osler residents have exhibited what it means to take care of one another by checking on each other and regularly bringing in food for their colleagues working long shifts.
Residents have volunteered for shifts in addition to their assignments to ensure patients are properly cared for and remained flexible to accommodate complete changes in schedules.
They have organized structured social opportunities to stay connected with each other and the program including fireside chats, evening reunions, reflection sessions and feedback sessions.
They have been innovative with virtual education, creating virtual medical student rotations and virtual residents in some ICUs.
Current residents have even reached out to incoming interns to start to make them feel familiar with the program they will join in July.
Medical Nursing:
Nurses and staff of Nelson 7 created the below video about how they remain positive for the sake of their patients.
Clinical Customer Service Coordinators have done a fantastic job of relaying information from nurse managers to patients and their families. This has been greatly helpful during a time when visitation is extremely limited to prevent the spread of illness.
Nurses have participated in a quality improvement study about improving health communication and support for families of COVID positive patients (with faculty and staff at JHH, JHHS and the Armstrong Institute).
Our medical nursing team is also taking part in a multi-center randomized blinded trial of safety and efficacy of Remdesivir versus a placebo for hospitalized COVID positive patients.
Below is a sampling of signs our nurses have made to help patients and each other stay positive during this stressful time.
For more COVID-19 photos, visit our Facebook page.