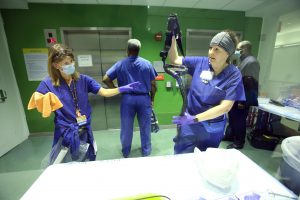 No one is untouched by the COVID-19 pandemic. Although all departments in the School of Medicine and Johns Hopkins Health System have come together in remarkable ways to meet this challenge, no group has given more than the Department of Medicine. COVID-19 is fundamentally a medical illness, and our department is at the forefront in every aspect. Our nurses, residents, fellows, faculty and administrators are all involved and have substantially changed their work flow and, in many cases, their job descriptions to meet the demands of COVID-19. Each of our divisions has contributed in unique ways, addressing the clinical care, research and educational missions that are so critical to this response. With profound gratitude for these efforts, we are dedicating a series of brief reports to inform, thank and celebrate the contributions of these key divisions to our COVID-19 response.
Division of Gastroenterology & Hepatology:
 Throughout the COVID crisis, the GI Infusion Center, under Elisheva Weiser's guidance, managed to continue our outpatient infusion centers without any disruption to patient care. This involved collapsing two outpatient centers from Columbia and Greenspring station into one operating center. The center was re-operationalized to run out of individual exam rooms in order to provide the safest environment possible. This also involved training multiple nurses through the division who stepped out of their typical rooms and learned infusion so that we could continue patient care. These efforts resulted in being able to continue critical infusions for our patients preventing disease relapse and hospitalization.
Members of the Mark Donowitz lab and the GI Core Center have continued part-time lab activities throughout the pandemic and hold interactive scientific and social activities via Zoom. After lab meetings they hold a social hour where each person describes what good and satisfying activity has occurred during the week.
The Donowits lab has applied for two supplements to current grants to test effects of drugs being considered for treatment of COVID-19 and judge which of the convalescent plasma samples from patients who had SARS-CoV-2 are most useful to treat patients with active disease and to prevent progression of infected patients.
The hepatology group has launched several new covid related research protocols including long term outcomes of COVID-19 infection in patients with chronic liver disease, use of supplements and nutriceuticals in liver transplant patients during covid pandemic (survey based) and endothelin 1 expression in liver tissue in patients with severe covid infection (autopsy study). They also added a weekly hepatology case conference via Zoom to keep in touch and discuss challenging cases.
Division of Nephrology:
The Division of Nephrology has worked closely with dialysis staff, hospital pharmacy and supply chain administrators to ensure that we have been able to provide dialysis to all patients who have needed it through the COVID-19 pandemic. Despite national shortages, they have maintained adequate staffing and supplies due to the foresight of the groups involved.
Nephrology has continued to provide outpatient dialysis services to over 400 dialysis patients throughout the pandemic. Due to early institution (early March) of masking of both patients and staff in all Hopkins affiliated outpatient dialysis units, no outbreaks of COVID-19 have occurred in any of our dialysis units despite this being a highly vulnerable and exposed patient population.
Nephrology fellows have tolerated interruptions in their training to provide overnight coverage to the ICUs to ensure we provide the best possible care. They have also volunteered nights and weekends, in addition to their regular clinical responsibilities, to cover shifts in the COVID ICU.
Fellows and attendings have worked side by side with pulmonary colleagues to care for patients with COVID-19 in the intensive care units, while continuing to provide care to non-COVID critically ill patients.
Clinical providers and staff remained flexible, worked long hours and picked up extra shifts to ensure patients were taken care of.
Nephrology continues to see over 90 percent of its historical visit volume via telemedicine mechanisms, which has become especially important for immune-compromised and out-of-state patients.
Nephrology increased utilization of home modalities for new dialysis starts. Several precautious were taken in the dialysis units to prevent the exposure of COVID-19. To date, there has been no known case of COVID transmission in the dialysis units.
During a time when it is easy to feel isolated, Nephrology maintained a sense of community with weekly Zoom meetings for all staff, faculty and trainees.
Several division faculty and fellows are participating in national research registries such as Global COVID GN registry and multi-center STOP-COVID registry.
Several faculty submitted COVID related grants to the NIH (NIDDK, NHLBI) and AHA.
Division faculty coauthored several reviews and editorial comments on COVID-19 as in several journals such as Journal of Clinical Investigation, the American Journal of Physiology, the Clinical Journal of the American Society of Nephrology and the Journal of the American Society of Nephrology.
Nephrology and pathology faculty are collaborating on kidney biopsy studies to understand the pathogenesis of AKI in COVID-19.
Nada Alachkar is leading the Hopkins involvement in the nation's leading COVID-19 clinical trial of the IL-6 inhibitor clazakizumab in patients with life-threatening COVID-19 infections.
Deidra Crews has spoken widely in various forums about how social inequities are playing a role in the COVID-19 pandemic and how this is impacting the most vulnerable in our communities.
Wassim Obeid, in Dr. Parikh's lab, is spearheading the development of the JHU urine biobank for COVID patients.
In response to shortages of dialysate in NY in April, Drs. Derek Fine and Chirag Parikh developed a novel method to prepare dialysis fluid for CVVHD. Learn more.
Drs. Steven Menez, Teresa Chen and Paul Welling as well as other faculty assisted with developing the nephrology section of the JHMI Lab Testing Guidance effort to coordinate testing for inflammatory markers in COVID-19 patients.
Paul Welling served as an expert advisor on the national nephrology JC workgroup that is devoted to a rigorous review of the pre-clinical and clinical studies linking coronavirus to the renin-angiotensin system, ACE2, and which serves as updated resource.
Drs. Welling and Parikh serve on the JHU COVID-19 Biospecimen Committee and the JHU COVID-19 Host Pathogenesis Committee, respectively.
For more COVID-19 photos, visit our Facebook page.
For more thank you posts, click here.