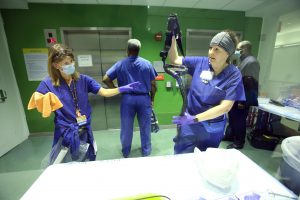 No one is untouched by the COVID-19 pandemic. Although all departments in the School of Medicine and Johns Hopkins Health System have come together in remarkable ways to meet this challenge, no group has given more than the Department of Medicine. COVID-19 is fundamentally a medical illness, and our department is at the forefront in every aspect. Our nurses, residents, fellows, faculty and administrators are all involved and have substantially changed their work flow and, in many cases, their job descriptions to meet the demands of COVID-19. Each of our divisions has contributed in unique ways, addressing the clinical care, research and educational missions that are so critical to this response. With profound gratitude for these efforts, we are dedicating a series of brief reports to inform, thank and celebrate the contributions of these key divisions to our COVID-19 response.
Division of Molecular Medicine:
During this time, the Division of Molecular Medicine jointly recruited Dr. Reza Kalhor along with biomedical engineering. He is an assistant professor from Harvard working on epigenetic technology in brain development.
Sean Taverna's laboratory has worked to identify genes and therapeutic targets in patients undergoing spinal cord stimulation after nerve injury and published in Molecular Pain.
Karen Reddy's lab showed a mechanism for organizing genes along the nuclear lamina and published in Cell Reports.
Michael Koldobskiy established his lab within Molecular Medicine and, along with Andy Feinberg, reported an epigenetic mechanism for acute myeloid leukemia.
Andy Feinberg reported in Science the results of an epigenetic study of identical twins, one of whom spent a year in space.
Division of Rheumatology:
Rheumatology has created a patient education hub that houses several COVID-related videos including:
Rheumatology has hosted several virtual divisional happy hours via Zoom over the last few months to provide a venue to share good news and connect with colleagues and their families.
In short order, Rheumatology adjusted its annual CME course to an online event and included two topics focused directly on COVID-19 education for health care professionals. The two topics were "Updates on Immunology for the Rheumatologist" by Dr. Eric Gapud and "Updates on COVID-19 with Dr. Max Konig" and Dr. Andrea Fava.
Rheumatology continues to see about 90 percent of its historical visit volume via telemedicine mechanisms, which has become especially important for immune-compromised and out-of-state patients.
Several researchers have submitted an important COVID-specific grant which focuses on COVID-19 and autoimmunity.
Thank you to Clinical Director Dr. Laura Hummers, Ambulatory Services Manager Don Mendell, and Clinic Supervisor Darlene Esposito, for their steadfast clinical leadership during this time.
The divisional RUN/Adapt committee is comprised of a diverse group of clinical and research staff, faculty and fellows and is helping to guide the division through reopening planning.
For more COVID-19 photos, visit our Facebook page.
For more thank you posts, click here.