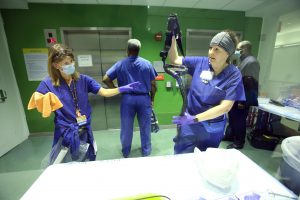 No one is untouched by the COVID-19 pandemic. Although all departments in the School of Medicine and Johns Hopkins Health System have come together in remarkable ways to meet this challenge, no group has given more than the Department of Medicine. COVID-19 is fundamentally a medical illness, and our department is at the forefront in every aspect. Our nurses, residents, fellows, faculty and administrators are all involved and have substantially changed their work flow and, in many cases, their job descriptions to meet the demands of COVID-19. Each of our divisions has contributed in unique ways, addressing the clinical care, research and educational missions that are so critical to this response. With profound gratitude for these efforts, we are dedicating a series of brief reports to inform, thank and celebrate the contributions of these key divisions to our COVID-19 response.
Division of Clinical Pharmacology:
Members of the division have increased the frequency of faculty meetings to keep in touch, and use the forum to discuss racial inequality and more. They have also moved weekly their scientific conferences and journal club online to maintain the sense of community.
Clinically active faculty (Brent Petty, Charlie Flexner, Kelly Dooley, Ethel Weld, Matt Ippolito) and our research nurse manager (Jennifer Breakey) have all increased their clinical activity over the past three months, many by increasing by a notch the intensity of their pre-COVID clinical activities.
Terry Shapiro was the first of our faculty to move an entire course offering (Principles of Clinical Pharmacology) from physical classroom to entirely online this past month. Ethel Weld has been working with the COVID-19 Off Label Working Group, which has been continually updating the JHMI Clinical Recommendations for Available Pharmacologic Therapies for COVID-19.
The Clinical Pharmacology Analytical Laboratory (CPAL), led by Mark Marzinke, and the clinical Drug Development Unit (DDU), led by Ed Fuchs, have changed gears to focus on COVID-19 related research efforts. The laboratory has been developing assays for COVID-19 related drugs to support national clinical trials. The DDU team changed directions to provide support to several COVID-19 related clinical trials (convalescent plasma and hydroxychloroquine) in hybrid research teams formed to very rapidly stand up these protocols.
The DDU and CPAL support several protocols in development by division faculty. Drs. Petty, Dooley, Weld, and Bigos are all leading new COVID-19 treatment related protocols with antivirals, monoclonal antibodies, and immunomodulators. Some are treatment trials, while others have a pharmacokinetic focus to better understand how to optimally prescribe drugs in the COVID-19 clinical setting.
Matt Ippolito and Charlie Flexner published an editorial on hydroxychloroquine pharmacokinetics in the journal Clinical Infectious Diseases.
Our newest faculty member, Jim Stevenson, has been engaged with a scholarly consideration of the potential impacts of pharmacogenetics on COVID-19 related therapeutics.
Brent Petty has dramatically stepped up one of his responsibilities approving the many COVID-19 research related order sets.
Craig Hendrix has been part of the semi-weekly COVID-19 Research Working Group that reviews clinical research studies prior to IRB review and serves on the new COVID-dedicated IRB that meets as often as daily.
Matt Ippolito provided advice to the NFL Chief Medical Officer on best practices for the virtual draft.
Division of Geriatric Medicine & Gerontology:
Division faculty and fellows completed 129 twelve-hour COVID inpatient shifts at both hospitals to care for acutely ill COVID patients. Our NPs and PAs stepped up to provide increased support to all of our clinical services across a full continuum of care.
Drs. Shaista Ahmed, Matthew McNabney, and Michele Bellantoni participated in the Johns Hopkins GoTeam responses to skilled nursing facilities, assisted living and other community sites for COVID testing and triage of nursing home residents during COVID outbreaks in facilities. Maia Holden, nurse practitioner with Hopkins ElderPlus, was also involved with this group.
The Johns Hopkins Skilled Nursing Facility Collaborative of 38 Maryland skilled nursing facilities under medical direction of Michele Bellantoni and administrative leadership of Allison Hart participated in Maryland Hospital Association COVID response initiatives including creation of daily web-based log of available skilled nursing facility beds and COVID status of all Maryland skilled nursing facilities through CRISP, Chesapeake Regional Information System for Patients, dissemination of a universal skilled nursing facility to emergency department transfer form to facilitate exchange of clinical information among providers, and arranged weekly webinars and chat forums for medical directors and medical providers of skilled nursing facilities sponsored by Mid-Atlantic Medical Directors Association, the regional chapter of AMDA, the Society for Post-acute and Long-term Care Medicine.
Specialty Hospital has created five additional vent rehab beds for COVID recovered patients.
The Beacham Center providers and staff provided a continuum of care during the COVID epidemic by developing protocols to work remotely and give support to our isolated older adults. Staff triaged upwards to 100+ patient phone calls & messages a day, and providers converted to telemedicine quickly to provide access to care.
Dr. Thomas Cudjoe deployed with the U.S. Army Reserve, as a member of an 85-person team of medical professionals called the Urban Augmentation Medical Task Force 332-1, first to a New Jersey field medical station, and then to University Hospital in Newark. For seven weeks, he supported the local staff in transitioning recovering COVID-19 patients out of the hospital. Learn more.
Despite mandatory closure of the PACE day center, the PACE team continued to provide care (at full financial risk) to all enrollees of Hopkins ElderPlus. This included telemedicine, home visits and visits to all affiliated nursing homes and assisted living facilities using appropriate PPE.
Dr. Mattan Schuchman, Dr. Jessica Colburn and Dr. Thomas Cudjoe and his team at Johns Hopkins Home-based Medicine has been keeping vulnerable older adults out of hospitals and nursing homes by providing primary care, urgent care and palliative care through home visits.
With generous donor funding and collaboration between Geriatrics (Drs. Colleen Christmas, Mariah Robertson, and Jessica Colburn), Palliative Care (Dr. David Wu) and JHOME (Dr. Mattan Schuchman), we began a pilot of a Home Geriatrics-Palliative Care Service (Home GPS) to support older adults with life-limiting illness who choose not to be hospitalized during the pandemic. They have been seeing patients referred by Bayview GIM Clinic and Geriatrics and providing in home support.
The Biology of Healthy Aging group has developed several NIH COVID related supplement proposals, with a focus on working with local nursing facilities to develop a biomarker tool to monitor resident's clinical status after infection, and developing novel COVID specific biomarkers related to inflammation and renin angiotensin system, and conducting a survey assessing stress and coping for older adults in era of COVID, The main outcomes of interest are virus shedding, immunity, and clinical signs and symptoms of COVID-19 disease.
With the leadership and enthusiasm of a committed group of Johns Hopkins medical students led by Cara Plott, Harry Paul and Rachel Strodal, Drs. Colleen Christmas and Jessica Colburn have been providing faculty mentorship for CREO (COVID Response Extended Outreach), a telephone outreach program where medical student volunteers are calling older adults followed by the Bayview GIM and geriatrics clinics to check in during the pandemic.
Drs. Cudjoe, Arbaje and more played a major role in communication efforts about COVID to the English-speaking and Spanish-speaking populations, with multiple TV, radio and print media sources seeking out their expertise.
The division hosted meetings with staff, learners and faculty to check in with each other.
The Johns Hopkins Geriatrics Workforce Enhancement Program (JHGWEP) is funded by HRSA and supports a collaboration between the Division of Geriatrics, JHCP and several community partners who serve older adults living in the community. Through additional CARES Act funding, the team led by Dr. Jessica Colburn and Jane Marks, RN, has received funding for primary care telemedicine pilots to improve access to telemedicine services for older adults. The team is collaborating with Drs. Carrie Nieman and Esther Oh to include telemedicine support for older adults with hearing impairment. Drs. Nieman and Oh have a forthcoming paper in Annals of Internal Medicine on connecting with older adults via telemedicine.  The grant funding was just awarded and work will begin this summer.
Dr. Oh also has a forthcoming paper in the Journal of the American Geriatrics Society on addressing hearing loss to improve communication during COVID-19 pandemic.
The JHGWEP has provided caregiver support and partnered with other groups in outreach to caregivers, through the state commission for caregivers of persons with dementia in a series related to COVID. The team partners with Called to Care and Mental Health Association in Finding Joy in Caregiving During the Pandemic. Linda Gorman, our librarian at Johns Hopkins Bayview Medical Center, has been doing weekly Story Telling chats (uploaded here) and Corner chats for Caregivers to engage their loved ones.  Two recreational therapists on the JHGWEP team created 2 sessions on how to engage your loved one with dementia with using things around the home during this pandemic. The team has worked with our community partner, MAC, under the direction of Maryland Secretary of Aging Rona Kramer, to create the Maryland Caregiver Service Corps to link caregivers who have become ill during this pandemic to connect to short term services.
Dr. Sevil Yasar, Dr. Colleen Christmas, and Ms. Lindia Holmes, thanks to the generous dedication of many faculty, were able to restructure the division's eight week summer aging research program (MSTAR) so that 17 students will complete their projects and participate in lectures entirely remotely this year.
Dr. Christmas also led three new online electives for medical students (Person and Pandemic: Exploring Medical Humanism Through Arts, Medical Spanish, and Introduction to Adult Telemedicine).
Drs. Mariah Robertson and Jessica Colburn published a perspective in JAGS on grace, connection and hard conversations in primary care for older adults during the COVID pandemic.
Dr. Danelle Cayea is co-chairing the department's ADAPT workgroup focused on education and leading the efforts to reintegrate students into the department as well as has been working at the School of Medicine level to revamp clinical education for medical students.
Dr. Neal Fedarko's Biology/Physiology of Aging class for T32-funded postdoctoral fellows had their curriculum switched beginning in March to focus on SARS‐CoV‐2, associated pathologies, potential treatments and age-related organ system changes that can contribute to disease severity.
Dr. Michele Bellantoni participated in IHI/Hartford Foundation webinar of over 1200 participants on  COVID management in nursing facilities.
Drs. Cudjoe and Cynthia Boyd contributed as reviewers of Recommendations for a Metropolitan COVID-19 Response Special Emphasis Series: Guidance on Protecting Individuals Residing in Long-Term Care Facilities.
Drs. Orla Sheehan and Bruce Leff, in collaboration with colleagues from Massachusetts General Hospital, have led a national survey of home-based primary care practices on how COVID-19 has affected home-based primary care delivery in the U.S.
Dr. Qian-li Xue  collaborated with colleagues from China on a national survey in China about impact of COVID-19 on behavioral and health outcomes on mental distress and change in smoking, drinking, physical activity and body weight.
Drs. Xue, Arbaje, Cudjoe, Roth, Sheehan and Blinka have submitted several grant proposals related to COVID, covering a wide range of topics, including proposals to develop a prognostic risk prediction model for COVID patients with data from Hopkins and China, to study complicated bereavement due to the near elimination of funerals and other cultural, longstanding, community-based, grieving processes because of COVID social distancing requirements, to investigate the effect of the pandemic on older adults' care transitions to home health care in Baltimore and NYC, especially among LatinX populations.
Dr. Sean Leng and his team have a funded ongoing COVID supplement for a biological surveillance study of older adults who are at high risk of both COVID and influenza. This project aims to investigate the impact of age, sex, frailty, and other host factors on immune responses to influenza and SARS-CoV-2 infections.
A dedicated laboratory has been set up for processing of SARS‐CoV‐2 blood specimens by Dr. Neal Fedarko, and novel assays for peptidases, sheddases and their products that appear to play a role in SARS‐CoV‐2 pathology are under development.
Drs. Elizabeth Phung, Stephanie Nothelle and the Beacham staff facilitated the conversion of the Beacham Clinic into being a COVID outpatient clinic.
Division of Occupational Medicine:
The Occupational Medicine clinical team has partnered with our clients to conduct outreach to those employees/patients on COVID-19 quarantine. Once contact is made, the individual is followed-up with every two to three days.
The division conducts virtual visits via Zoom where technology permits.
Zoom lunch & learns provide regularly scheduled educational updates to the employees and management of our clients on COVID-19 facts and figures.
Clinicians align with the PepsiCo management team to ensure best practices and next steps are implemented during exposures (questionnaire/screenings, referrals, treatment/follow up and plans to safely return to work).
Marchina Tolbert Jones, DNP, created a video to highlight the partnership of JHU and PepsiCo and to promote team spirit.
The division holds frequent team communications and outreach (via Zoom/email) with team members across the country including virtual coffee breaks and happy hours.
The division encouraging employees to lean on their faith; support each other, call and check on each other and ensure no one lacks essentials such as PPE, food and water, etc.
JHU clinicians are calling PepsiCo employees with chronic medical conditions to check in with them regularly and assess their health and personal needs.
Dr. Grant Tao is working with a large global employer as a consultant to analyze the covid19 test results of their employees and provide advice for their global testing policies.
Nickole Grato, NP, assisted Gatorade facility in Dallas with a face mask campaign making over 80 masks personally with the assistance of her family.
Kathy Zane, NP, assisted the PepsiCo plant in Houston with getting the facility's temperature screening process off the ground. This meant that the provider took middle of the night phone calls and helped trouble shoot thermometer problems with the location to find a resolution.
Lan Alforja, NP, created two videos to educate our client's employees on how to put on, take off and store a face mask and how to put on and take off latex gloves safely.
Sarita Mehta, PA, Ashley Akhter, NP, Rose Pizzi, NP, Greg Kolinski and Michael DiCanio traveled two hours daily to assist PepsiCo in implementing the safe and gradual re-openings of key PepsiCo locations in NY and IL.
Kelly Schulte, NP, Gomathi Ramakrishnan, NP, Kaitlyn Senesoury, NP, and Taryn Surovik, CMA, provided additional clinical hours to PepsiCo and Gatorade plants in the Dallas metropolitan area to keep their employees healthy and safe while working during the pandemic.
Gretchen Smith, PA-C, traveled to Pennsylvania to conduct Department of Transportation mandated drug screens in order to keep the PepsiCo drivers on the road and able to deliver their product.
Wendy Bechtel, PA, has regularly visited four satellite PepsiCo locations in the Seattle metropolitan area to assist maintaining the health and safety of their essential employees.
Tom DeStefano, PA, has regularly visited a satellite PepsiCo location in Youngwood, PA to assist in maintaining the health and safety of their essential employees.
LaTarsha Morrison, PA, and Gretchen Smith, PA, have worked 6-20 additional hours weekly since March 15 to provide health care services to the employees of Coastal Sunbelt Produce to ensure the health and safety of their crew members.
Naren Balkarran, DHSc, PA, consulted with AARP to create a re-opening plan for the HQ office in Washington, D.C.
Sheryl Giordano, DNP, collaborated with Liza Delmuro, DNP, Marchina Jones, DNP, and PepsiCo leaders to help revise return to work documentation for patients following CDC guidelines.
Angela Mittman, PA-C, and the Philadelphia PepsiCo plant team partnered and spent the day delivering beverages to Fire Departments around Philadelphia.
Erin Lajoie, PA, and Kayla Khoury, AT, supported an EE out on COVID leave who was concerned about returning to full duty because of deconditioning while off work. The EE was encouraged to go outside, get sunshine and fresh air and go for short 2-5 min walks (with someone and wearing a mask). The EE was hesitant at first to follow their guidance. Later, he thanked the providers and shared how he appreciated their welcomed telephone calls as he was feeling so much better and ready to return to work.
Kayla Khoury, AT, supported early MU efforts in implementing temperature screening for all visitors, employees and contractors by calibrating all the infrared thermometers and providing guidance and instruction for the support staff who would be manning the screening stations.
Lan Alforja, NP, supported the Market Unit by reaching out to all EEs who are out on COVID leave, providing telephone wellness checks, answering questions and assisting them in the return to work process. Lan created a COVID process slide that was shared with the team as a best practice.
Amy Alfriend, RN, MPH, provided invaluable support by shipping PPE to JHU providers all across the country when other PPE supply resources were not available.
For more COVID-19 photos, visit our Facebook page.
For more thank you posts, click here.