If anything, the pandemic has shone a light on the inequities that exist in our healthcare system. Research increasingly shows that racial and ethnic minorities are disproportionately affected by COVID-19. In a city like Baltimore, where more than half our population consists of minorities, we have a real opportunity to affect positive change. In fact, Medicine for the Greater Good has been doing just that since 2013.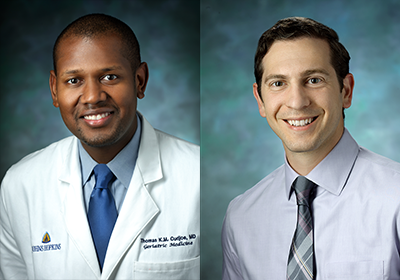 Medicine for the Greater Good (MGG), led by Drs. Thomas Cudjoe and Panagis Galiatsatos, aims to promote health and prevent disease through the development of community partnerships, creation of community peer-to-peer health educators and training healthcare professionals how to mitigate health-related inequities through community engagement. During this time of crisis, MGG has mobilized a rapid and multifaceted response that continues to be a staple for congregations, housing communities and schools. From disseminating public health messaging to community leaders, to teaching youth about COVID-19, to distribution of hygienic supplies and personal protective equipment, MGG has been at the forefront of the COVID-19 response.
As such, we saw the need—now more than ever—to expand Medicine for the Greater Good to reach both hospital campuses. The initiative, which began at the Johns Hopkins Bayview Medical Center, will employ a stakeholder workgroup comprised of DOM faculty and trainees, JHH and JHBMC leaders and community leaders from congregations and schools to develop a strategic plan to improve health literacy throughout Baltimore City. MGG has already successfully done this through the following programs:
Lay Health Educator Program: Training congregational members and public housing tenants on current health issues concerning their community using methods summarized in "Building Health Communities through Medical-Religious Partnerships" (Hale WB, Bennett RG, Galiatsatos P)
Lung Health Ambassador Program: Training school aged youth on lung-related health issues impacting their community
Health and Education Teaching (HEAT) Corps: A multidisciplinary collaboration across several JHU entities, where the focus is teaching school-aged children on health topics
Medicine for the Greater Good will also expand its training opportunities to help healthcare professionals develop the skills to effectively engage the community. These skills include public speaking, cultural consciousness, sociohistorical context and awareness and teaching of health-related topics, and will be taught through the following:
Workshops for internal medicine residents and faculty
Discussions to keep the community informed on current health-related topics that impact communities around both JHH and JHBMC, with the focus on diversity, inclusion and health equity
Collaborations and open dialogues with other Johns Hopkins entities that focus on community engagement (Office of Diversity, Inclusion and Health Equity, the offices of community affairs and relations, JHHS Health Equity Operations, Centro Sol, Urban Health Institute and the DOM Diversity Council)
Lecture series and projects that promote community discussion and engagement
The annual MGG Symposium, where prior years have focused on institutional racism, advocacy and art and medicine for community engagement
Throughout the pandemic, we have become used to doing things for the greater good: staying home, wearing masks and practicing social distancing. Now is the time to think bigger about what we can do to close the gap in the inequities that have come to light in our society. I am extremely proud of the work that has already come out of Medicine for the Greater Good, and I stand with Drs. Cudjoe and Galiatsatos as they expand the program to ensure DOM faculty, nurses and staff at both campuses have access to MGG resources, projects and discussions. With such demonstrated success at one campus, I can't wait to see what we can do with two.
-Mark