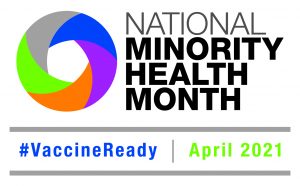 April is National Minority Health Month. The observance dates back to 1915, inspired by Booker T. Washington, and gained support from Congress in 2002, but the need for it has only been amplified by a year-long pandemic that has disproportionally affected minority populations.
The COVID-19 pandemic has brought social and racial injustice and inequity to the forefront of public health. As a result, we at Johns Hopkins Medicine and in the Department of Medicine are recommitting to promote minority health in our neighborhoods and around the world. We will not ignore the light that has been shone on this public health crisis that began long before the pandemic ever did. In the past we have sometimes stumbled—operating a segregated hospital, using a segregated blood supply, failing to adequately follow up in clinical studies—but we have also made great progress toward improved partnership with our minority patients and communities.
This year, the U.S. Department of Health and Human Services Office of Minority Health's theme for National Minority Health Month is #VaccineReady. The aim is to underscore the need for racial and ethnic minority and American Indian and Alaska Native communities to get vaccinated. Johns Hopkins Medicine and The Johns Hopkins University have teamed up with the Center for Communication Programs for the "Get the Facts About the Vax" campaign. The Office of Diversity, Inclusion and Health Equity continues to partner with the Urban Health Institute, the Center for Health Equity, Centro SOL and the Office of Government and Community Affairs on virtual community vaccine education forums. Drs. Panagis Galiatsatos and Sherita Golden have been partnering with Baltimore community leaders to circulate an infographic that gives "12 things you need to know" about getting vaccinated. They have also set up a pilot program that pairs Baltimore City and Johns Hopkins health professionals with houses of worship to provide virtual and in-person guidance on best practices for reopening and the latest information from the U.S. Centers for Disease Control and Prevention. To learn more about these initiatives, click here.
In the DOM, we have a new Associate Vice Chair for Diversity and Inclusion and leader of the DOM Diversity Council, Dr. Risha Irvin, who aims to strengthen efforts to increase recruitment, retention and promotion of underrepresented in medicine faculty and trainees with initiatives like the Visiting 4th Year Medical Student Clerkship (currently requesting applications for its next cohort, due by May 28) and the Myron L. Weisfeldt Distinguished Visiting Professorship in Diversity. Increasing racial and ethnic diversity among trainees and physicians could be our most effective intervention to address health disparities, as studies have shown minority patients benefit multidimensionally from having minority doctors.
I am grateful for National Minority Health Month and its potential to heighten our attention on improving minority health and healthcare. I am confident that by working together and raising awareness we will grow as caregivers and improve the lives of our minority patients.
-Mark