Dr. Steven Hsu, assistant professor in the Division of Cardiology, and Dr. Anum Minhas, advanced echocardiography and imaging fellow, were recently awarded for presenting their original research as finalists at the Northwestern Cardiovascular Young Investigators' Forum.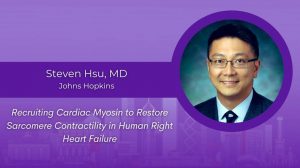 Dr. Hsu received the first place award in the Basic Science for Junior Faculty section. He presented his work on recruiting myosin to restore sarcomere contractility in human right heart failure. His abstract is titled "RV Sarcomeres from Human HFrEF complicated by RV Failure have Abnormal RV Thick Filament Structure Treatable by Direct Sarcomere Activation."
Dr. Minhas presented her findings on the association of gestational diabetes with subclinical cardiovascular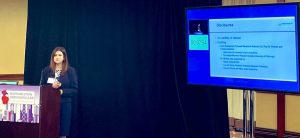 disease on echocardiography and endothelial function testing for the clinical fellows section.
Dr. Minhas also recently received a Vision Grant from the Preeclampsia Foundation. Each year, one award is given to a junior faculty member studying preeclampsia and one to someone doing research in eclampsia/HELLP syndrome. She will work on her project titled "Racial Disparities in the Cardiovascular Effects of Preeclampsia" with her senior mentor Dr. Allison Hays, associate professor in the Division of Cardiology.