Inpatient & Ambulatory: CHAT Feature added to Helpdesk Web Portal
Need Epic Help? Click "Chat" in real time to speak with a live specialist

Log into Epic. Click the Epic Button [top left], scroll to Help, Epic Helpdesk, then "Chat"
Available 7am-7pm Monday thru Friday
High Priority tickets must be called into the Helpdesk by dialing 410-614-EPIC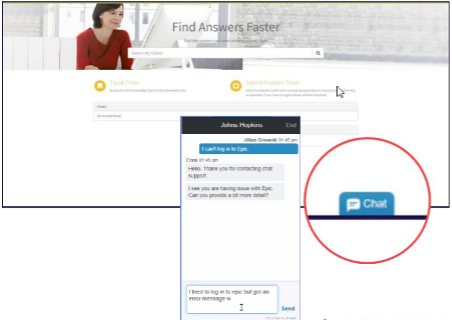 Inpatient & Ambulatory: Results Review Key Points
Click the Wrench:

To move the Result Tree from left to right and vice versa
To change the font size
To turn on and highlight new results since you last viewed and reset using Time Mark

Hover to discover Icons:

Graph:
Most recent column:
Show all rows:
Results Icon legend:
Refresh:
Time Mark:

Scroll or click the arrows to view more or less
'Not Resulted' orders display below the Result Tree. Hover to note the status
Screenshots of the above are available here.
Inpatient & Ambulatory: Reauthenticate Break-the-Glass in Haiku
Instead of entering your password, use secure iOS or Android fingerprint and face recognition to reauthenticate your identity

Ensure to give the app access to fingerprint or face unlock in device settings
This does not apply when e-prescribing controlled substances
Secure face recognition requires Android 10 or later and must meet Google's security requirements
Inpatient: Storyboard Dialysis Alert
When one of the following orders is entered a Storyboard Dialysis Alert will appear:

Continuous Renal Replacement
Peritoneal Dialysis
Inpatient Hemodialysis
Continuous Hemodialysis

The alert persists for 4 days after any of the orders are discontinued or completed
Ambulatory: Synopsis View for Thyroid Disorders
View the Thyroid Synopsis in Adult/Geriatric Primary Care, Endocrinology, and Cardiology clinics via the:

Synopsis Activity tab
Synopsis links in Chart Review, Notes, Labs, or micro tabs in an encounter, Or
Chart Search

To begin trending data, click the wrench and search for AMB SYNOPSIS THYROID. Rearrange the order in which the Reports appear on the primary toolbar using the up or down arrows
Click Chart Review – Trend Data Using Synopsis for more information
Ambulatory: Mark your Calendars for the Next Epic Efficiency Series Webinar
"What happens if you cannot do your job? – Downtime Procedures"
When: Wednesday, April 14, 2022, 12:00 PM-1:00 PM
Where: Zoom => "Join with computer audio" using the link: https://jhjhm.zoom.us/j/4107356227
Qualifies for ONE AMA PRA Category 1 credit(s) TM
Note: CME credit is available for live viewing only. Sessions are recorded and posted on the Mastery Training tile of the Epic Training Portal.
Ambulatory: Telemedicine Hot Topics – States of Emergency Telehealth Services Updates [Data as of 4/1/2022, 5 pm]
The National Public Health Emergency [PHE] has been extended to April 16, 2022 [no further update]. Emergency orders/states of emergency have expired in many states, affecting providers' ability to perform telemedicine visits for out-of-state patients:

New Jersey: licensure waiver extension to 6/30/2022.
New York: licensure waiver extension to 3/31/2022. No further update.
Pennsylvania: licensure waiver extension to 6/30/2022.
Virginia: Expired 3/22/2022.
Washington, D.C.: licensure waiver extension to August 10, 2022. You must fill out attestation form here.

Refer to legal FAQs for information related to individual state waivers and licensing requirements.
Direct general questions to JHM Telemedicine or legal-specific questions to Telemedicine Legal.
COVID-19 Epic Training Portal link
For more Epic Tips of the Week, click here