Thank you to everyone who participated in the 2022 DOM Clinical & Education Retreat. This was the first time we've been able to celebrate these missions since their separate retreats in 2019, and it was a great opportunity to reconnect with colleagues in person. We'd like to thank our keynote speaker, Dr. Torian Easterling, First Deputy Commissioner and Chief Equity Officer NYC Department of Health and Mental Hygiene, for an important talk titled "Grounded in Love: Advancing an Anti-Racism Public Health Agenda."
Following the keynote, participants divided into two workshops. The clinical workshop, "Leading Through Change in Healthcare: Tips for Every Clinician" presented by Michael A. Rosen, PhD, MA, was a robust discussion on strategies to empower clinicians to help themselves and their teams face, embrace and thrive in the midst of change. The education workshop (pictured above) on "Reverse Mentorship in Academic Medicine" was presented by Drs. Erica Johnson and Maddie Rodriguez. Reverse mentorship pairs trainees and faculty, particularly those historically underrepresented in leadership, with more senior leaders in a mutually beneficial relationship, where the more junior individuals mentor senior leaders on concepts that have strategic relevance.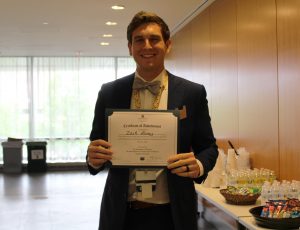 For the teaching competition, we had five contestants (listed below) present bite-sized teaching methods and compete for the grand prize. We'd like to thank all of our contestants for a job well done, with a special congratulations to Dr. Zach Lorenz who took home this year's prize for his presentation on medical education podcasting.
Zach Lorenz, MD, resident, Bayview Internal Medicine Residency Program
Zainab Obaidi, MD, fellow, Division of Nephrology
Danica Rockney, MD, fellow, Division of Infectious Diseases
Nick Smith, MD, fellow, Division of Cardiology
Laura Walsh, MD, resident Osler Medical Residency
Finally, we ended the day with a clinical case problem solving session in which Drs. Paul Loeser, Med-Peds resident, and John Woller, assistant professor in the Division of Hospital Medicine at JHH, presented a clinical case to Dr. Alan Gelber, professor in the Division of Rheumatology. Dr. Gelber was then tasked with attempting to live-diagnose the patient with help from the audience.
View a recording of Dr. Anderson's presentation as well as the keynote once it is ready on the DOM Mediasite Showcase.
View Dr. Anderson's slides here.
View the program booklet here.
To view photos of the event, click here.