A month full of Pride events will culminate this weekend during Baltimore's Pride Parade and 47th annual block party—the largest LGBTQ event in Maryland. Whether you plan to take to the streets in one of our city's most inclusive events or not, I hope you all take a moment of gratitude for the civil liberties we all share as a direct result of this movement.
We celebrate Pride thanks to generations of brave individuals who have fought and continue to fight for the right to be who they are. For 30 years after the police raid on the Stonewall Inn in New York City in 1969, we celebrated Gay Pride Day only for it to expand to Lesbian, Gay, Bisexual and Transgender Pride Month in 1999. Today, we celebrate a movement that spans the whole spectrum of races, cultures and gender identities. Much like Pride has evolved and changed to fit its members, we as a department strive for the same progress.
To ensure the continuation of this progress, I'm happy to announce the request for applications for the Assistant Vice Chair for LGBTQ+ Equity and Education for the Department of Medicine. This individual's first charge will be to establish the DOM LGBTQ+ Equity and Health Education Council to develop initiatives and programming focused on equity for LGBTQ+ faculty, trainees and staff. The council will identify gaps in support and education and provide solutions to show our commitment to the success of every member of our department. I hope you will consider joining. The future of the DOM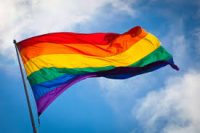 looks brighter already.
-Mark
Assistant Vice Chair for LGBTQ+ Equity and Education Request for Applications
Submit applications by Friday, July 22, 2022.
Learn more in the Johns Hopkins Medicine LGBTQ+ Pride guide, and on the LGBTQ+ resources and Johns Hopkins University LGBTQ Life websites. If you are interested in joining the LGBTQ and Allies Employee Resource Group, please email diversity@jhmi.edu.