The following are updates and reminders about billing for JHED accounts sponsored by departments along with a new version of the JHED Department Administrator Tools.
JHED Accounts Sponsored by Departments Billing 
To cover institutional licensing costs, a fee will be required for JHED accounts sponsored by departments. Billing will begin on September 1, 2022. While the cost of the required Microsoft license is $125 per account/annually, Hopkins IT will bill monthly, at $10.50 per account/month.
JHED accounts sponsored by departments are for non-employees and are created to provide access to Hopkins resources. Proactively managing these accounts and deleting those no longer in use or needed will both reduce cyber risk and eliminate the fees for the required Microsoft license. Please use the JHED Department Administrator Report to review your JHED department sponsored accounts using the sponsored account filter. Instructions for navigating the report and exporting data can be found here.
Alternative collaboration options are available in lieu of a JHED account. See JHED Alternatives SharePoint site for more information.
We appreciate the efforts made by JHED Department Administrators to update previously sponsored JHED accounts with SAP cost objects. We will need to ensure that all department sponsored JHED accounts have cost objects assigned prior to September 1, 2022.
JHED Department Administrator Tools Upgrade 
On Thursday, July 28, 2022, the JHED Admin Toolkit will be upgraded to integrate Deletion Manager and Security Lock with the Sponsored Account Manager (SAM) interface.  The new JHED Admin Toolkit interface will be familiar to you if you have been using SAM.
Deletion Manager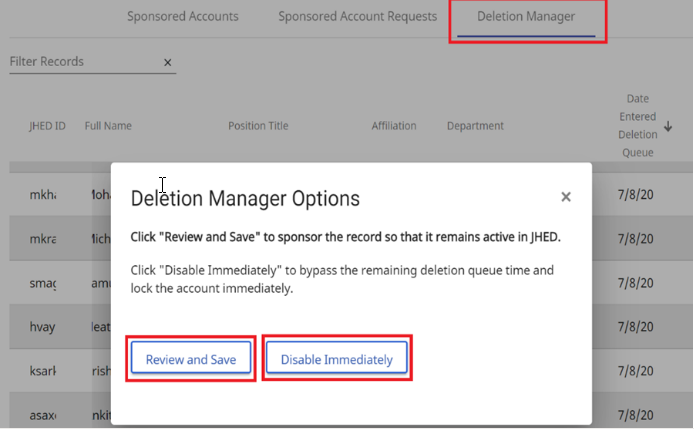 Security Lock
Security lock functionality is available as part of the user edit workflow in the Sponsored Accounts tab or through the JHED ID search box.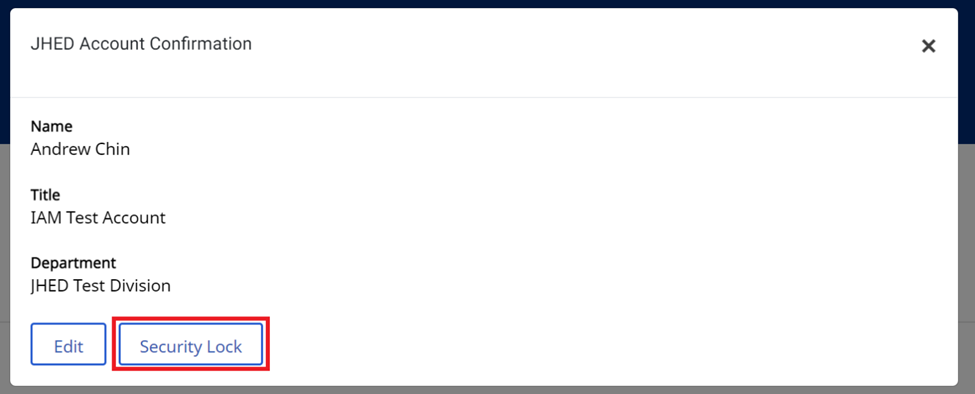 The JHED Department Administrator SharePoint site also includes help pages, links to resources and news.