We are very proud to present to you the 2023 Intern Class for the Osler Medical Residency and the Johns Hopkins Bayview Internal Medicine Residency Program.
All members of this internship class are exceptionally accomplished students from top medical schools from all across the country. The richness and diversity of interests that this class represents is truly remarkable. The academic excellence that they have already achieved is just the beginning for them, and we will all work hard to guide them on their journey to becoming outstanding physicians and leaders with much to contribute to medicine.
Congratulations to the 2023 Intern Class: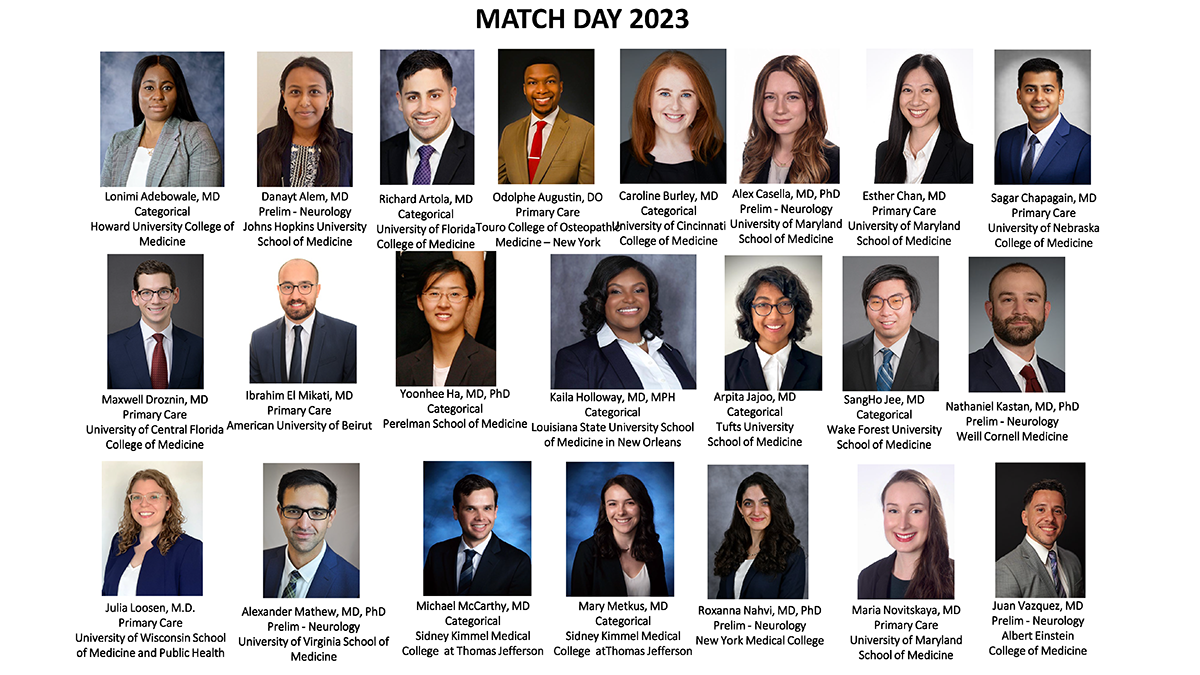 Categorical
Elizabeth Abou Diwan, AUB
Akwasi Aduboffour, Med College Georgia
Hilary Bediako, U Penn
Cameron Blazoski, Thomas Jefferson
Khalifa Bshesh, Weill Cornell Qatar
John Connolly, U Penn
John Dobbs, GWU
Sophia Emetu, Med University South Carolina
Ruiyi Gao, Johns Hopkins
Geyner Gaona, U Texas Houston
Charbel Gharios, AUB
Vrinda Gupta, GWU
Stephanie Hawkins, Penn State
David Hutto, UT Southwestern
Allen Jo, Howard
Rohan Kankaria, Albert Einstein
Suraj Kannan, Johns Hopkins
Maham Karatela, Duke
Idris Kosoko, Meharry
Alexandra Mansour, U Michigan
Maxine McGredy, Columbia
Colin McLeish, Dartmouth
David Meyer, East Carolina
Nada Mhaimeed, Weill Cornell Qatar
Henry Pronovost, Temple
Muhammed Rahim, Penn State
Jeffrey Rappaport, Thomas Jefferson
Nicole Robertson, U Kentucky
Lynette Sequeira, Georgetown
Jalene Shim, UC San Diego
Mark Sokolsky, Wake Forest
Lynn Stanwyck, Virginia Tech
Thi My Linh Tran, Brown
Karen Udoh, U Louisville
Rohan Verma, Johns Hopkins
Grant Wilson, Johns Hopkins
Diborah Yimer, Meharry
Andrew Zale, Johns Hopkins
Ralph Zeitoun, AUB
Dylan Zerjav, Dartmouth
Liam Coyne, SUNY Upstate
Matthew Dong, Yale
Erik Faber, U Minnesota
Alessio Gasperetti, Universita di Milano
Preliminary
Narjis Mhaimeed, Weill Cornell Qatar
Click here to view the list on The Osler Connection.
Sreeja Kodali, Yale
Anna Preston, Yale
Harrine Ramesh, Case Western
Lauren Rosas, UCLA
John Buyske, Columbia
Dustin Kee, Mt Sinai
Jennia Rajaei, Stanford
Tiffany Wang, U Maryland