Please join us for this year's Johns Hopkins Center for Women's Health, Sex, and Gender Research spring symposium! This year's topic will focus on Women's Health in Acute and Long COVID-19. Speakers will include Dr. Andrea Edlow who will be delivering the keynote speech, and our panelists Dr. Sabra Klein, Dr. Rosemary Morgan, Dr. Alba Miranda Azola, and Chimére Smith.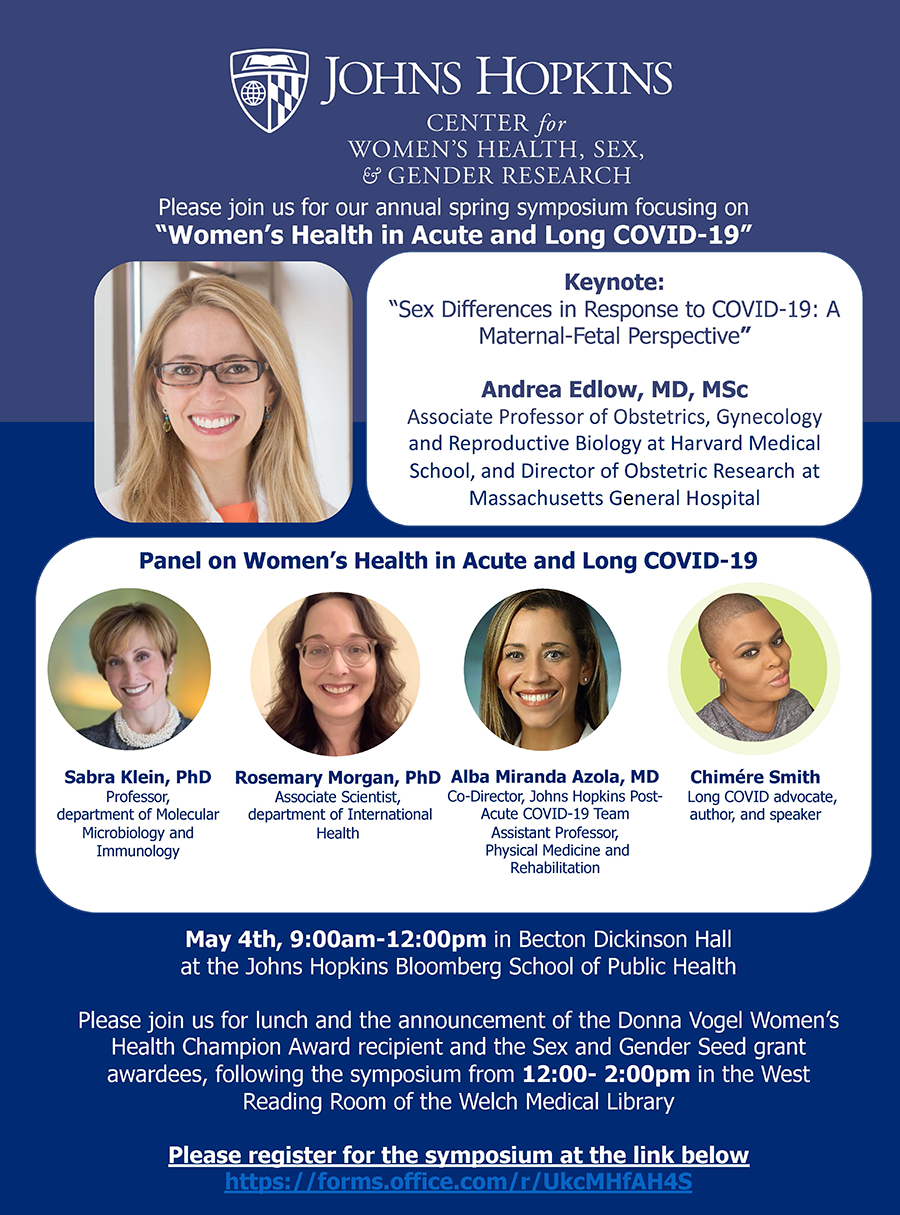 Dr. Andrea Edlow, MD, MSc is an Associate Professor of Obstetrics, Gynecology and Reproductive Biology at Harvard Medical School, and a Maternal-Fetal Medicine specialist at Massachusetts General Hospital, where she serves as Director of Obstetric Research. Dr Edlow's laboratory focuses on the effects of maternal obesity and maternal immune activation on fetal brain development and offspring behavior, and how these effects are modified by fetal sex. Her lab was one of the first to use amniotic fluid supernatant and umbilical cord blood to investigate real-time fetal brain development in obese human pregnancy. Gene expression profiling of these two biofluids identified abnormal gene expression signatures in fetuses of obese women, highlighting dysregulated brain development and increased inflammation. More recently, Dr. Edlow has investigated the effects of maternal SARS-CoV-2 on the placenta and cord blood immune profile, and how the placental and fetal effects of SARS-CoV-2 are modified by fetal sex. Link to faculty profile
Following our keynote speech, we will be hosting an expert panel on women's health in acute and long COVID-19. Our panelists include Dr. Sabra Klein Link to faculty profile, Dr. Rosemary Morgan Link to faculty profile, Dr. Alba Miranda Azola Link to faculty profile, and guest panelist Chimére Smith. 
Chimére Smith is an author, speaker, panelist, and thought leader who unapologetically shares her unique Long Covid journey including balancing the effects of her disability emotionally, physically, and financially as a Black woman and patient. She has been featured on many media platforms including CNN, MSNBC, and in The New York Times. She has also written for Huffington Post, Medium, and She Knows. She is currently on a virtual book tour, celebrating the release of Fiona Löwenstein's The Long Covid Survival Guide, of which she is a contributing author and can be found at chimereladawn.com. Chimére also works with #MEAction to encourage diversity in volunteerism. Link to website