Now in its third year of operation, the Healthy for Two – Home Visiting (H42-HV) Program aims to utilize a lifestyle intervention to break the cycle of excess weight gain during the perinatal period and subsequent cardiometabolic disease (CMD) for Black and Latinx individuals.
Few lifestyle interventions have been tested among Black or Latinx pregnant people or been implemented in community-based settings. The team draws from past experience designing and testing Healthy for Two (H42), an evidence-based pregnancy/postpartum health coaching intervention that is delivered remotely (phone coaching using motivational interviewing, a web-based platform and mobile phone behavioral tracking).
The H42-HV Program is a Mid-Atlantic Center for Cardiometabolic Health Equity project led by Dr. Wendy Bennett, associate professor in the Division of General Internal Medicine, and Kelly Bower, associate professor in the School of Nursing. The research team hopes to aid in recruitment by partnering with existing home visit programs across Maryland:
Researchers propose pregnancy provides a teachable moment to reduce adverse pregnancy outcomes and prevent long-term CMD in pregnant people. Becka Richman, senior research program coordinator in the School of Nursing, said the overall goal of this study is to determine "whether having a health coach during pregnancy and postpartum helps a pregnant person to reduce what's called 'postpartum weight retention' or the amount of weight gained during pregnancy that they keep on after they have a baby."
The program's design is simple:
Partner with established home visiting programs in a community.
Home visitors regularly meet with their pregnant clients and help to connect them with additional resources.
Home visitors offer the H42-HV Program as a resource to pregnant people who fit the program's specific criteria.
Once a referral is received and a participant is randomized to intervention, an H42-HV Program health coach (also referred to as an interventionist) will reach out and begin providing services.
One obstacle this young program faces is recruitment. In order for a pregnant person to be eligible, they must: be involved in a participating home visiting program, be 20-33 weeks into their pregnancy, have a BMI categorized as overweight or obese and speak either English or Spanish. Through the help of its home visiting partners, the program's health coaches are able to connect with pregnant people who meet these criteria.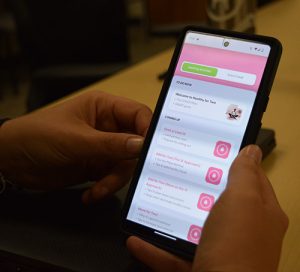 For a year and a half, the H42-HV project team worked with an outside company to develop a mobile app that puts this program in the hands of participants. The "Healthy for Two" app (available in English and Spanish) provides participants with education and accountability by allowing them to complete learning activities, message their health coach directly, meet with their coaches for virtual visits, set goals, track their weight, and more.
What also sets this program apart from others, according to Richman, is its holistic approach to caring for people and "meeting them where they're at" as they transition to a new stage of life and their identities are changing – with an emphasis on nutrition, exercise, sleep and mental health.
To learn more about this program, contact Becka Richman at rrichma1@jhmi.edu or visit the program's website.
-Katie Caviness-Crolley, communications specialist in the Division of General Internal Medicine