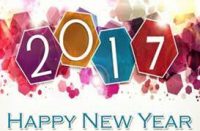 Happy New Year 2017! I hope you all had a wonderful holiday season. As we begin the new year together, the leadership team and I would like to share our appreciation for your professional commitment to excellence and dedication to both nursing and our department. We will continue to focus our efforts on making the Department of Medicine the best place possible to learn and grow. With the information you have provided through the Urban Institute survey and unit brainstorming session conducted on the units, the leadership team and I look forward to partnering with you to improve our work environments. Together we will achieve great things!
-Ron

The Department of Medicine said a farewell to Madalyn "Maddy" Biggs on January 20. Maddy transferred to serve as the nurse manager in the Wilmer Outpatient Centers at Greenspring Station and Bel Air. Maddy has used her talents at JHH, starting her career in the Emergency Department before transferring to the CCU/MICU on Osler 7. She then served as a medical shift coordinator prior to becoming the nurse manager of MPCU when it was formed on Halsted 4 twenty years ago. As a leader of the MPCU, she expanded bed capacity during its temporary move to Meyer 8, then oversaw the unit's move to its current location on Nelson 5 where it serves as an intermediate care unit for all services. During Maddy's tenure she served on many nursing pharmacy committees and co-led the annual nursing golf tournament for charity. We wish Maddy the best in her new position.
Nursing Promotions!
Sheila Miranda, MS, RN, CCRN will be joining our Medical Nursing group as a nurse educator on February 5 in addition to continuing to work in her current unit, the Medication Intensive Care Unit (MICU). Sheila began working on MPCU in 2008 and advanced to NCIIM. before transferring to the MICU where she has advanced the clinical ladder to NCIIE. Sheila has served as charge nurse, clinical mentor, preceptor, unit-based TB testing coordinator and co-chaired the unit's Peer Review Committee. In addition to her duties in MICU, Sheila was a super user for the Biocontainment Unit in 2015.  Most recently, she served part-time on the faculty at University of Maryland teaching fundamentals and worked with students in the simulation laboratory.
Lindsay Ricketts, RN, NCIIM, PCCU, began working part-time as a wound resource nurse in the DOM on January 22. Lindsay's participation on the departmental Wound Care Committee, creation of the PCCU Wound Care Committee, PCCU Prevention Guidelines for pressure ulcers, staff education, assistance with wound care surveys and the PCCU wound care bulletin board have demonstrated her expertise and passion in wound care. Lindsay chairs the Patient Education Committee and is a member of the PCCU Safety Committee, PCCU Service Committee and the Medical Nursing Patient Education Committee. She will continue to work part-time in PCCU and will begin her wound certification work this year.
Donna Beitler has been promoted to coordinator of nursing education and informatics for the departments of Medicine and Radiology effective January 9. Donna is certified in professional development and EpicCare Inpatient Clinical Documentation. Her expertise is well known as she has been the DOM informatics coordinator for six years, nurse educator in the DOM for five years, endoscopy NCIIE for seven years, PACU nurse for eight years and MICU nurse for two years. Donna's ability to work among groups and with a variety of large projects has shown she has great skills in planning, coordination and management.
A huge thank you goes out to the following people who received compliments this month:
Dr. Hugh Calkins, Steve Shive and the nurses on Zayed 1 West
All physicians and nurses on Nelson 7
Laura, nurse on Meyer 9
All nurses and physicians on Meyer 9: "They treated me like I was Queen Elizabeth's son. I've never been treated so well in a hospital before."