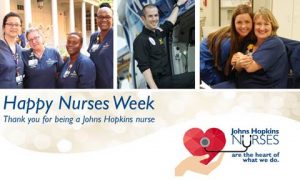 Even though Nurses Week has come and gone, I wanted to take another opportunity thank you for all you do. The care you provide our patients is second to none. You are what makes Hopkins Nursing special and are the heart of what we do. Thank you!
With all of the long hours and hard work you put in daily, it's important to remember to take time out for yourself to recharge. Luckily, Baltimore has no shortage of fun activities to do! Check out the spring festivals, eat some Maryland crabs, attend an O's game or take a trip to Ocean City!
Last but not least, I'd like to congratulate all of our new graduates! 🎓  Whether you are a new nursing graduate or current staff with a new advanced practice nursing degree, we salute you!
-Ron
For photos and a message from Dr. Anderson regarding Nurses Week, CLICK HERE.
JHH Department of Nursing Awards and Recognition Ceremony
Congratulations to the MICU team led by Carrie Outten who was named the winner of the 2017 Nursing Excellence Award Submissions for the CLABSI Reduction Program in the Medical Intensive Care Unit at the ceremony on May 24.
We'd also like to congratulate Holley Farley who received an honorable mention for "A Shared Governance Approach to Implementing Change of Shift Huddle."
Endoscopy Community Outreach Group
The Endoscopy Community Outreach Group recently assisted the Atholton Seventh Day Adventist Church in Columbia, MD with their Community Fair and Health Expo. This was the group's first outreach opportunity outside of the unit since the group formed in October 2016. The team took this opportunity to share knowledge and educate community members on preventive health.