I hope everyone is taking time away with their families this summer. It's a good time to recharge before school starts. I realize it is still July, but September 5 will be here before you know it. That said, I want to promote the Nursing Diversity Committee's Back to School Drive. Please refer to the below flyer to help donate items for children attending Henderson Hopkins. These families could use our help and are extremely appreciative of the support. Last year we donated 28 back packs full of supplies! I challenge the team to exceed that mark this year. In fact, our very own Shawntell Goode (right) was recognized for helping coordinate the donations and deliver to the school.
-Ron

Endoscopy Nurse Manager
Effective July 10, Neysa Ernst, RN, MSN has been appointed nurse manager for The Johns Hopkins Hospital and Johns Hopkins Bayview Endoscopy services. This new appointment supports the organization's strategic priority of integrating academic based medicine with our current healthcare delivery model. This model will support the collaborative integration of endoscopy services and effectively join the two clinical teams into a "one service/two campus" model. Under Neysa's leadership, the new team will effectively integrate current best practices to continue optimal patient care, grow and develop endoscopy nursing, and meet the financial challenges of today's healthcare market. 
Welcome New ACSs
With the start of the new academic year, we welcome our new ACSs: Alexander Ambinder, Longcope; Mickey Brener, Janeway; Michael Keller, Barker; and Sandy Zaeh, Thayer.
Physiological Monitoring Equipment Participation
During the week of July 24, nursing personnel were able to participate in evaluation of physiological monitoring equipment supplied by three vendors.  Evaluation input will be utilized to help in the selection of an appropriate vendor by the Hopkins Supply Chain as we replace aging equipment on our campus.  Many elements are involved in a decision such as this. Appreciation goes to all the staff who took the time to leave the clinical area and evaluate equipment.
Special Wedding on Palliative Care Unit (Meyer 9)
On July 17, Meyer 9 Palliative Care hosted a wedding! Unsure of her ability to attend the scheduled September ceremony, Jenny's family brought the celebration to her. Dresses and suits were pressed and a cake awaited the ceremonial cutting as Johns Hopkins Chaplain Susan Donham officiated the exchange of vows for Jenny's son and daughter-in-law. With champagne glasses raised over a Baltimore skyline view, Jenny's family enjoyed their special day. Meyer 9 thanks Jenny for the honor of sharing her family's celebration with us.
Fall  Fair on Nelson 8
During the week of July 4, Nelson 8 held a patient fall awareness fair to review fall risk categories and highlight collaboration by staff in fall prevention.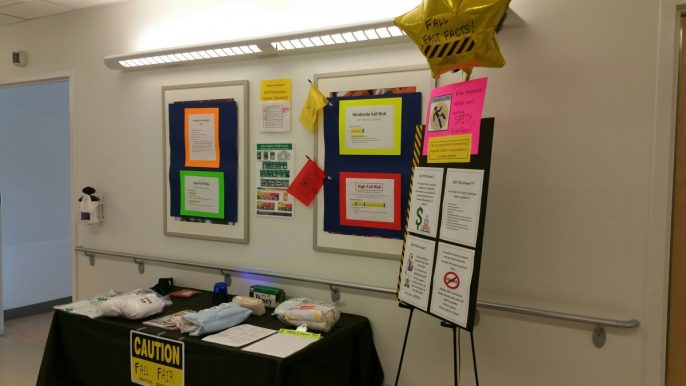 A huge thank you goes out to the following people who received compliments this month:
Sarah, James and Erica, nurses on Nelson 7: "You'd think I was their family."
Micha, clinical coordinator on JHOC Internal Medicine
Hannah, nurse on Bloomber 5 South-PCCU
Fely Carillo, nurse on CHU-4: "She was very kind and compassionate, responding quickly to my needs. She also went above and beyond her duty in an effort to get the needed paper work completed so that I could be released as soon as possible, as I was eager to go home."
Mahta Laghaie and Kathy Wagner-K0smakos, nurses on Nelson 6
Margie, nurse on Zayed 2-Endoscopy
Amy Kilen, Ann Marie Cullen, Laura Schrank and Joanne Johnson, physicians and nurses on Zayed 5 West-CCU
All staff on Meyer 8
Dr. Michael Daniel and Anna Thomas, physician and nurse on Nelson 6