Congratulations to Sara Grisham, Deborah Michell and Kim Williams who were selected to receive this quarter's Staff Recognition Awards based on their glowing nominations.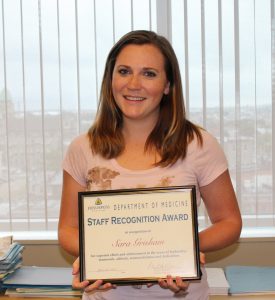 Sara Grisham serves a dual role as administrative coordinator for the Division of Molecular Medicine as well as the Center for Epigenetics. While fairly new to the department, she has had a lasting impact on both the division and center, embodying diplomacy, creativity and teamwork while organizing matters for faculty members who report to their respective basic science departments rather than the DOM. Her passion for helping others has shone through her work assisting Andy Feinberg, working with the division's technology director to solve personnel problems and taking a personal interest in ensuring trainees have the best possible experience. She has been especially essential in this time with limited pre-award grant support, reaching out to other divisions across Hopkins to create opportunities for multidisciplinary projects. "I've actually never seen anyone so enthusiastic about solving problems, and so positive about the future and what we can do together as a division," said Andy Feinberg, professor and director in the Division of Molecular Medicine and director of the Center for Epigenetics.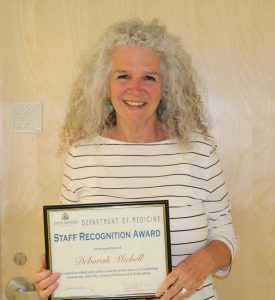 Deborah Michell, registered nurse on Nelson 4, is a key ingredient in what keeps the Polk Service and parts of the Carol Johns Service running. She is in constant contact with the service and the patients' clinic providers and has even been known to appear on her days off to pick up and fill a prescription and personally deliver it to patients at home. "She is the greatest advocate a patient could have and she goes out of her way to make sure that patients receive the best possible care on the unit and are discharged safely," said Joel Blankson, associate professor in the Division of Infectious Diseases and medical director of the Polk Service. "Many patients call her before they call the clinic when an issue arises, and she will stop to listen and give advice even though she has a full unit of inpatients to take care of." She has been an asset to not only patients, but attendings, housestaff and nurses alike, and has become a sought-after resource for all in challenging situations.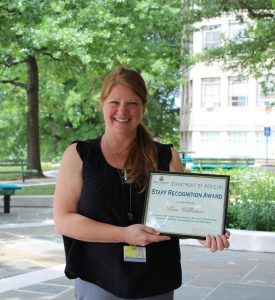 Kim Williams plays many meaningful roles in the department including: administrative supervisor in the Division of General Internal Medicine at Bayview, manager of the Miller Coulson Academy of Clinical Excellence and administrator of the DOM Women's Task Force. One common aspect that unites her many roles is the leadership she exhibits throughout each. Whether she is creating workflows for GIM staff members to evenly distribute work based on divisional needs and evolutions, coordinating events and faculty members across 13 departments for the Miller Coulson Academy or planning meetings and events to support the Women's Task Force, she is known as a valuable resource for faculty and staff across divisions and departments. She even takes on roles outside of her scope by reaching out to residency program leadership to develop and coordinate resident rotations and opted to lead the cause to launch a digital and social media platform for the Miller Coulson Academy. "Ms. Williams has been an invaluable asset to GIM for over 18 years, taking on more responsibility and not only accepting, but leading change as the division has evolved," said Scott Wright, director of the Division of General Internal Medicine at Bayview and the Miller Coulson Academy of Clinical Excellence.
Other notable nominees include:
Mario Borgerding, senior financial analyst, Cardiology
Tammy Buettner, nurse manager, adult medicine clinics
Leigh Fisher, senior administrative coordinator, Bayview Chairman's Office
Kirsten Gercke, administrative manager, Bayview Chairman's Office
Bob Lester Melon, budget specialist, Cardiology
Connie Pedrick, supervisor of the Endoscopy Centralized Procedure Scheduling team
Karen Rosen, medical training program administrator, ID
Jennifer Vessio, administrative program coordinator, Clinical Pharmacology
Trish Vogt, MOC, ID
Catherine Weaver, administrative coordinator, Pulmonary
Think your colleague deserves to be recognized? Stay tuned to the blog for the next call for nominations in September.