National Doctors' Day was created to recognize the contributions of physicians to individual lives and communities. I would like to take this opportunity to do exactly that for the physicians in the Department of Medicine. Last year alone, you made over 408,000 inpatient and outpatient encounters. Despite such a heavy workload, your contributions have helped rank our specialties and training programs among the top hospitals and universities nationwide. Each year our numbers, facilities and clinics grow, and yet the quality of care you give our patients does not waver. Instead, you thrive not only within the walls of our facilities, but in the Baltimore community and beyond. You visit patients in their homes with programs like the Johns Hopkins Home-Based Medicine or JHOME, sponsored by the Division of Geriatrics. You take an active role in educating children and adults throughout the community about potential harm with programs like Medicine for the Greater Good, led by Panagis Galiatsatos, as well as health fairs and pop-up clinics. You sponsor and raise money for the causes you believe in like Alex's Lemonade Stand Foundation, and you strive to find new treatments and solutions for our patients like using Viagra to treat heart disease. Your efforts and accomplishments continue to amaze me year after year and words cannot express the extent of my gratitude.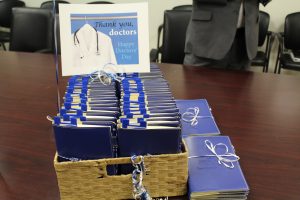 I hope you have felt the appreciation not only from me, but the entire administration over the past few days by enjoying breakfast, collecting your gifts and taking a well-deserved break from the seemingly-insurmountable tasks you manage to complete each day. Thank you for all you do.
-Mark
To view photos from our Doctors' Day breakfast, visit our Facebook page.