We have begun sending new joint grand rounds announcements featuring session information for JHBMC, JHH and divisional grand rounds all in one place. The announcements will be sent out from the Office of Education at the beginning of each week on Sunday evenings.
Here are a few tips for navigating the new announcements:
Add to Calendar Function
To add an individual event to your Outlook calendar, click the orange Add to Calendar button.
For PC users: a dialogue box similar to the below will appear.
Click open to view the details of the event including the Zoom link.
Click Save & Close to save the event to your Outlook calendar

For Mac users: Once you click the orange Add to Calendar button, the download will appear at the bottom of your web browser
Click the rectangle that appears (see below).
Click Save & Close to save to your Outlook calendar.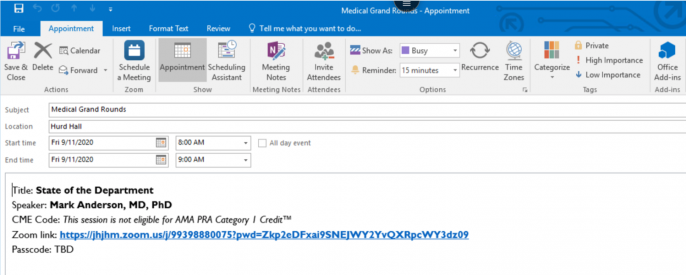 You can then forward the event to other people/calendars like you would normally in Outlook.
Direct Zoom Links
If you would prefer to access the Zoom link directly without adding the event to your calendar, click the event title (i.e. JHBMC Medical Grand Rounds). Going forward, we will include Zoom passcodes in the announcements.
Social Media
Click the social media icons below any event to be directed to the platform for the residency or fellowship program.
The Department of Medicine social media channels are linked at the very bottom of the announcement.
If you would like the social media account for your program to be linked to the announcement, please email kbenne28@jhmi.edu.
Archived Recordings
If you are not able to watch a grand rounds session live, you can visit the Grand Rounds Mediasite Showcase. You can search all recordings at the top or browse by date or channel.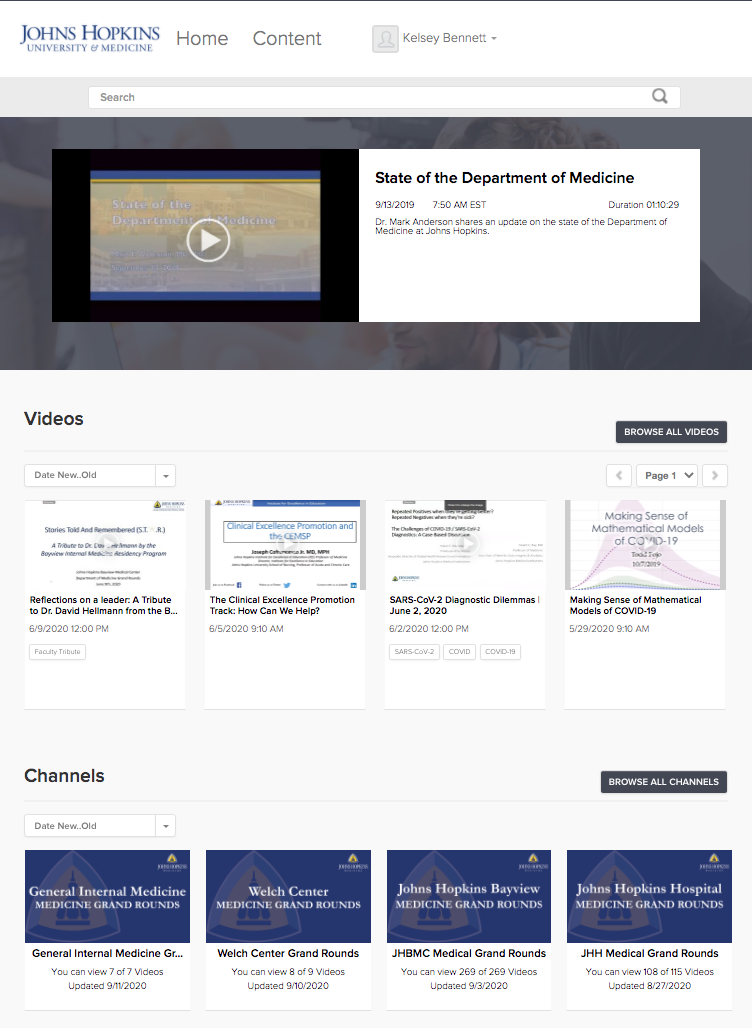 *Please note: not all divisions use Mediasite. Only the programs with a Mediasite channel will appear at the above link.
Other Events
If you would like to advertise a grand rounds session or CME event, please email the following information to kbenne28@jhmi.edu by the end of the day on the Wednesday the week prior to the event.
Presentation title
Speaker's name
Speaker's preferred titles (including degrees)
Speaker's photo (especially for external speakers)
Speaker's Twitter handle (if applicable)
CME Code
Zoom link
Zoom passcode